As you already know, many people carry out manual trading (arbers) and especially those who are new to this world of surebets, look for calculators that help them calculate the necessary amounts per bet to be able to make surebets correctly. However, this denomination is also used to talk about all the programs to make surebets.
Evolution of surebet calculators
Surebets calculators have evolved over time, going from simple excels and calculation software, to becoming what are many today, surebets scanners that tell you where the opportunities are and calculate how much you owe. bet on each of the bookies with a certain total amount.
But the evolution does not stop there, within this section we must also include the surebets bots such as BetOven, which not only track the surebet opportunities that arise between each of the bookmakers, but also perform those surebets in a automated, traversing the web as a person would, but faster. avoiding losses
Let's be honest, no one is going to give you their work if it's good, that's why these 3 surebets calculators are paid. No one is going to give you their work if it's good, that's why these 3 calculators are paid.
Top 3 surebet calculators
Although there are many more programs to make surebets, these are the 3 that we consider the best on the market:
betburger
The undisputed king of surebets calculators. He has achieved this position thanks to being able to analyze more than 100 bookmakers, scan all markets, most sports and also with high speed. It allows locating bets both pre-match or pre-match, as well as during the match or live. If we pay attention to its filter system, we will realize how it is far superior to Oddstorm's. Its menus are divided into blocks, which we can also filter to view only the ones that interest us the most.
Sometimes Betburger can sing the surebets wrong, and give us a very bad day trading, for me that is one of the big cons. On the other hand, it is totally normal for these problems to exist when bookmakers change the programming of their websites.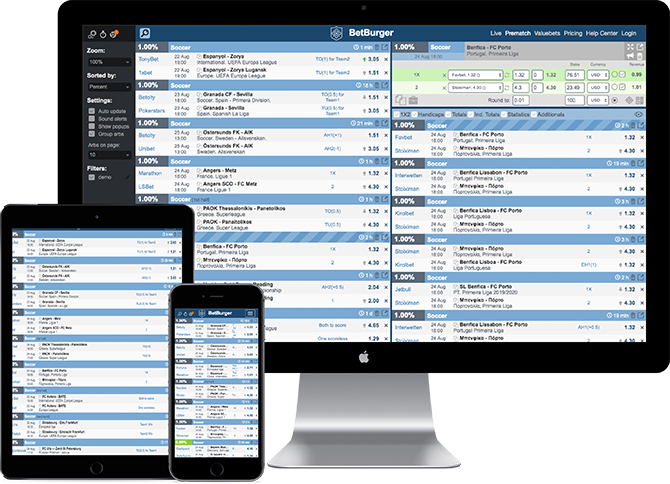 With Betburger you will get the most succulent surebets in any country and very quickly.
Price
Its price ranges between €129.99 and €294.99 per month. Although you also have a daily subscription.
Our recommendation is to buy the medium plan €229.99 focused on scanning live bets.
Pros of Betburger
The software with the most number of bookmakers available.
Very good filtering of surebets
All sports available
Cons of Betburger
High price, although cheaper than its direct competition Oddstorm.
reliability failures
Bad after sales service
BetOven
The supreme leader in automated surebets. BetOven goes one step further and not only takes care of tracking surebets , but does them for you. You will only have to configure the software to choose or filter which sure bets you want to make. The most passive way to generate income in the world of surebets.
Its big drawback is that it is only available for the Spanish market, since it only works with .es bookmakers.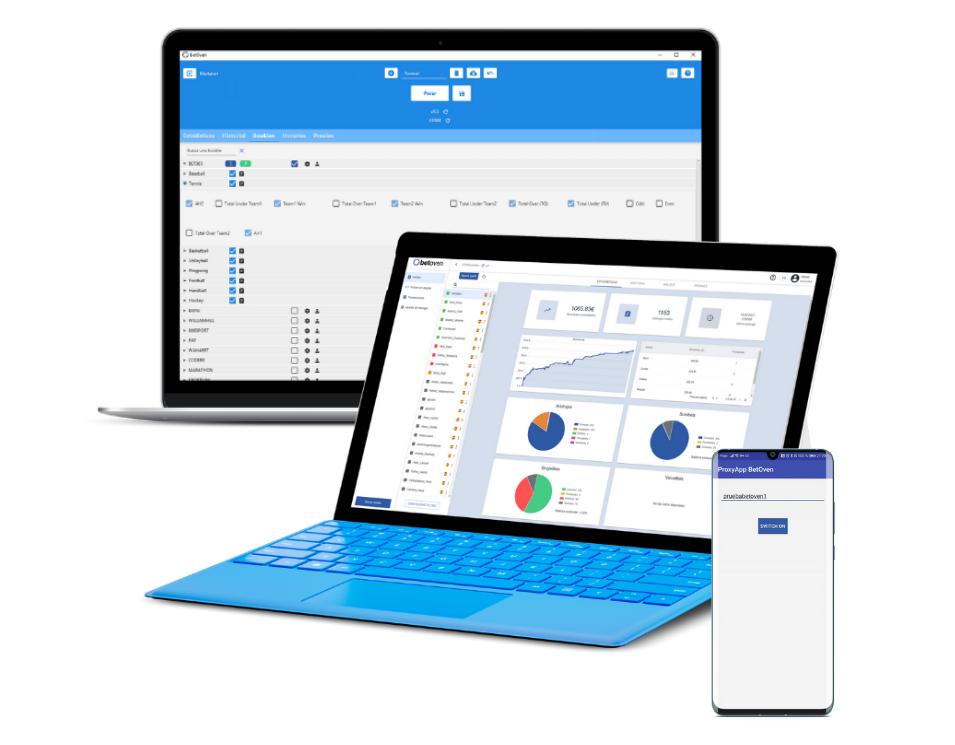 Price : In this case you must buy points or credits that will be consumed as you earn money by making surebets. When you consume them, BetOven will stop making surebets.
The positive part of this system is that if you lose money, for example, in a singlebet, you get your points back. That is, you will continue making surebets until you consume the points.
You have a free trial of €25
Pros of BetOven
100% automated software
Payment system based on earnings
fast learning curve
Cons of BetOven
Only available in Spain
Necessary installation on Windows system
oddstorm
If you want to make soccer surebets, this will be your favorite surebet calculator. It stands out for its high speed and for having markets that other software does not have and working in more than 70 bookmakers. However, it has a big drawback: it is only capable of scanning surebets in the beautiful game, soccer.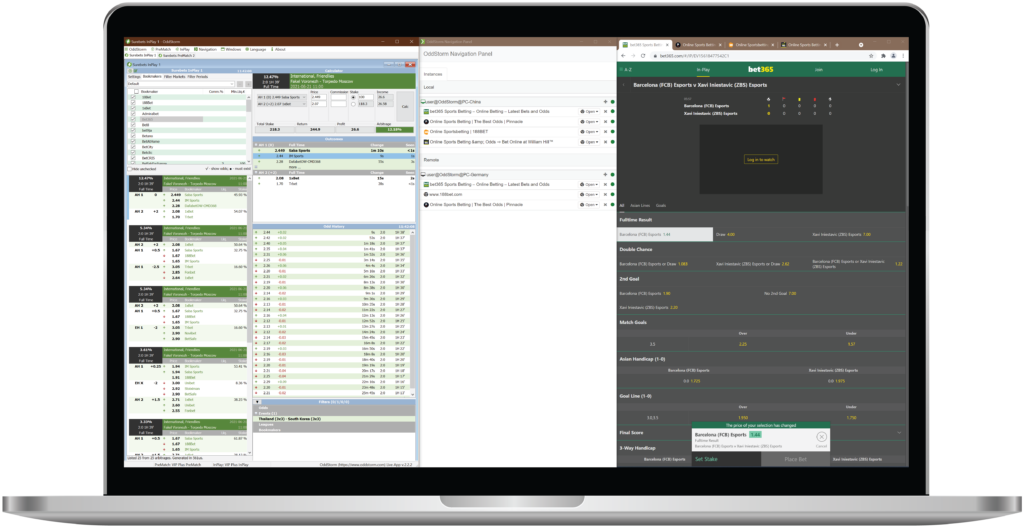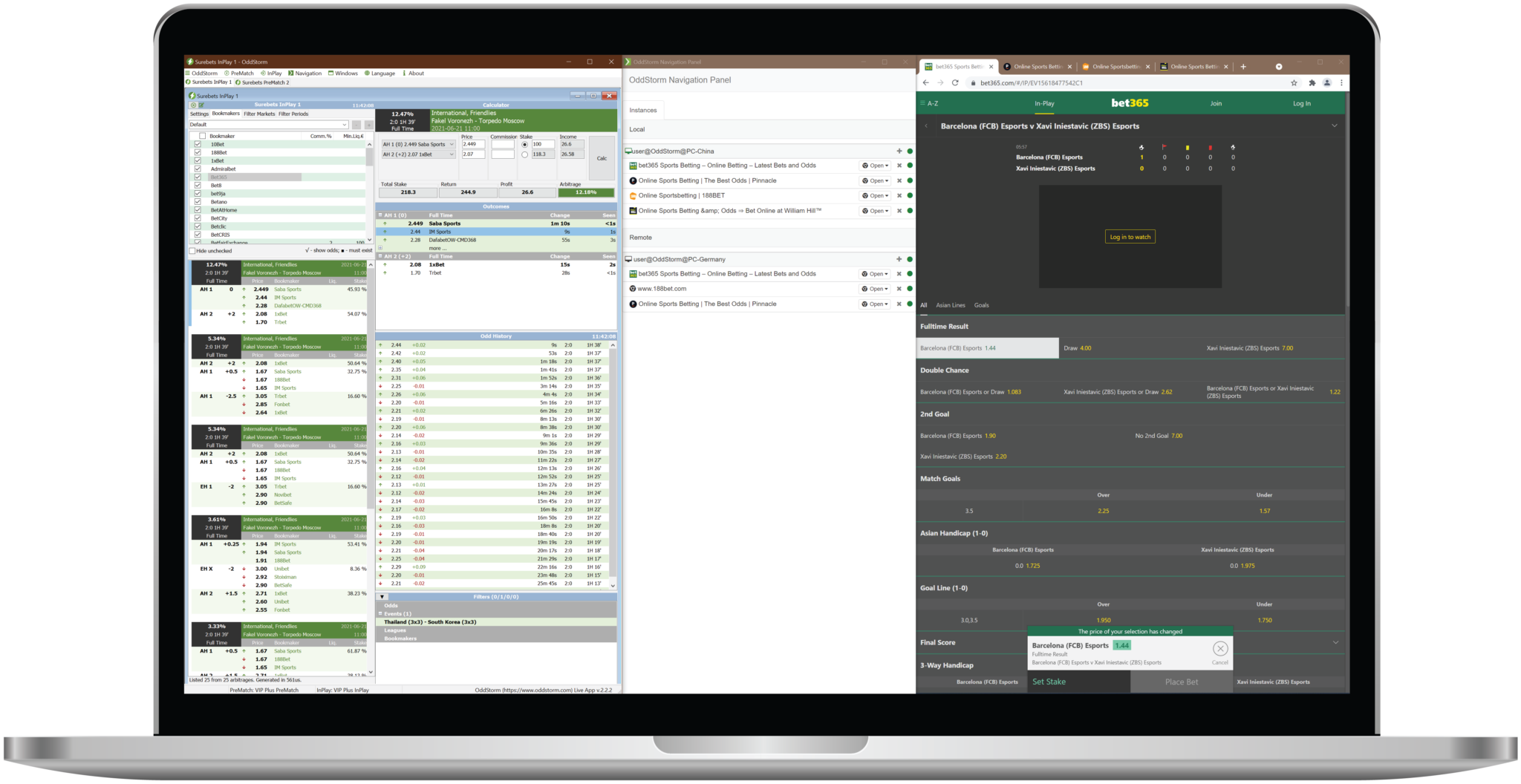 Price : Its price ranges between €155 per month and €295 with prematch and live surebets. In our case we recommend the intermediate choice of €195 with live surebets.
Pros Oddstorm
The most reliable software
Oddstorm Cons
most expensive software
It only has surebets in soccer