Today I will tell you how to configure BetOven 10 in such a way that you can place bets with and without logging in at bet365.
First of all, let me remind you how to login to the new BetOven . If, on the other hand, you already know how to do it, I recommend that you go directly to step 3.
1. Login and Update
You have probably already updated BetOven to its latest version. If this is not the case, do it by following these steps:
Enter the username and password, the credentials of the profile that you have previously created on the managers website , or those that we have provided you in your free trial .
* If you don't know how to create a profile with your manager, I invite you to visit Youtube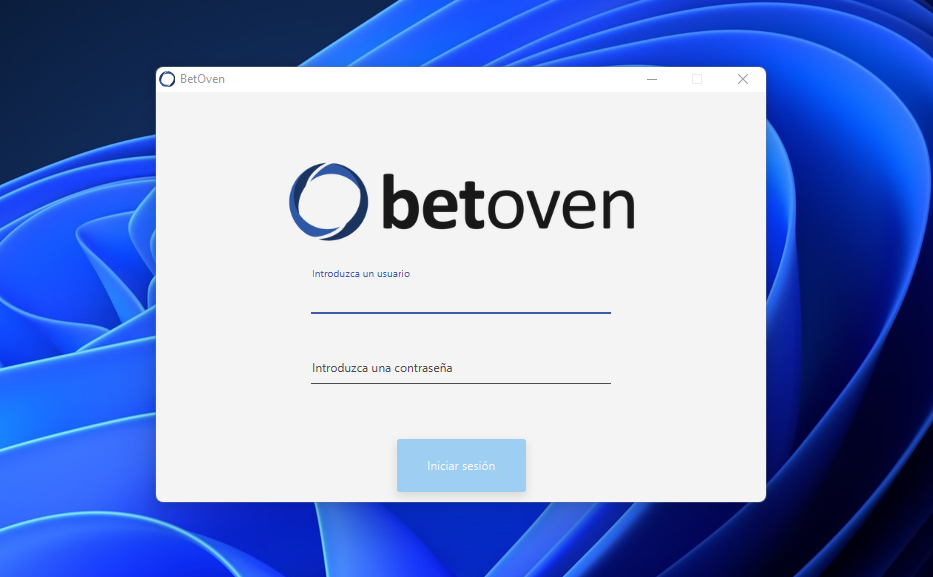 The first time you log in to your profile, BetOven will ask you to add an encryption key . This key will be used so that not even BetOven has the data corresponding to your bookmakers on its server. Also, it is unrecoverable , so memorize it well or prop it up in a safe place.
In this example, we will use the following key: 12345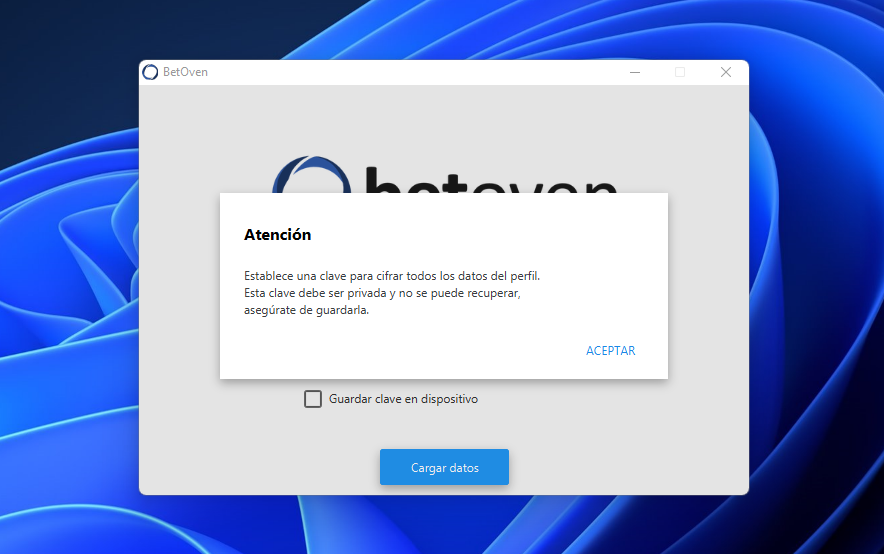 You have the option to save the device key in such a way that when you start BetOven again it is not necessary to add it again. Once confirmed press load data .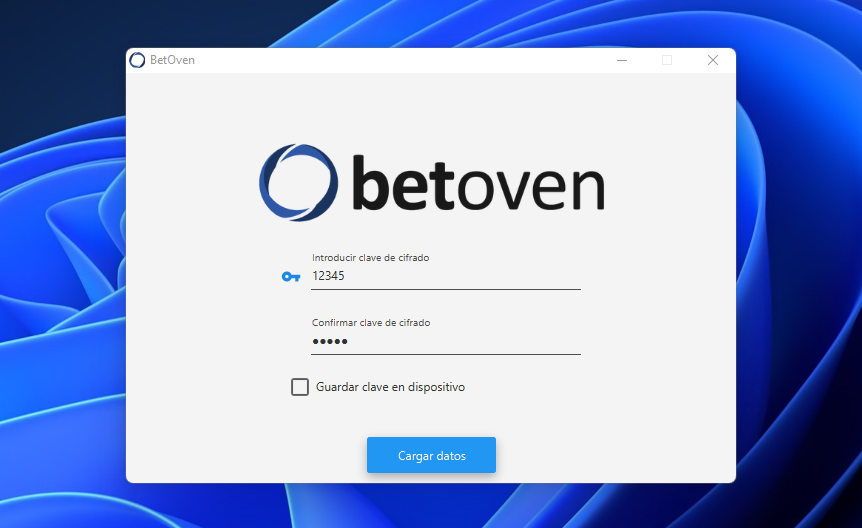 Most likely you have an outdated version of BetOven, so you will need to update it. It's very simple, a sign will appear the moment you press start session, which will indicate that you must proceed with the update.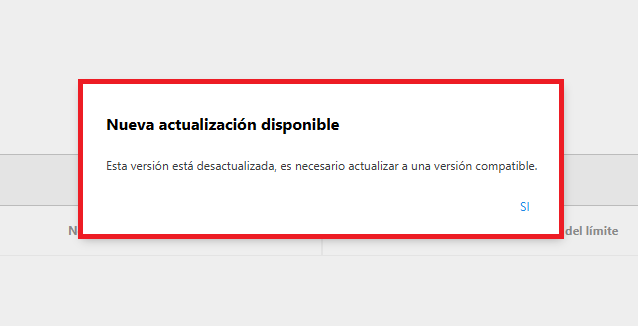 Accept and wait a few seconds for your update to download.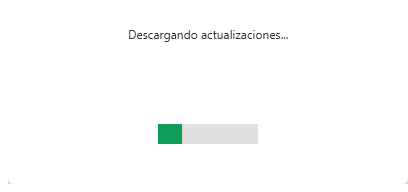 Tap update now for your update to complete.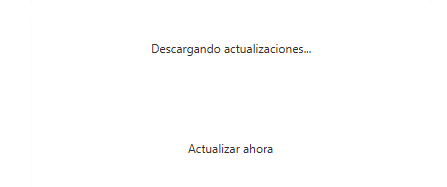 Wait for BetOven to restart. It will be at this moment when you will know that the BetOven update has been carried out successfully. A completely white BetOven profile will open for you, which will be where you make the settings.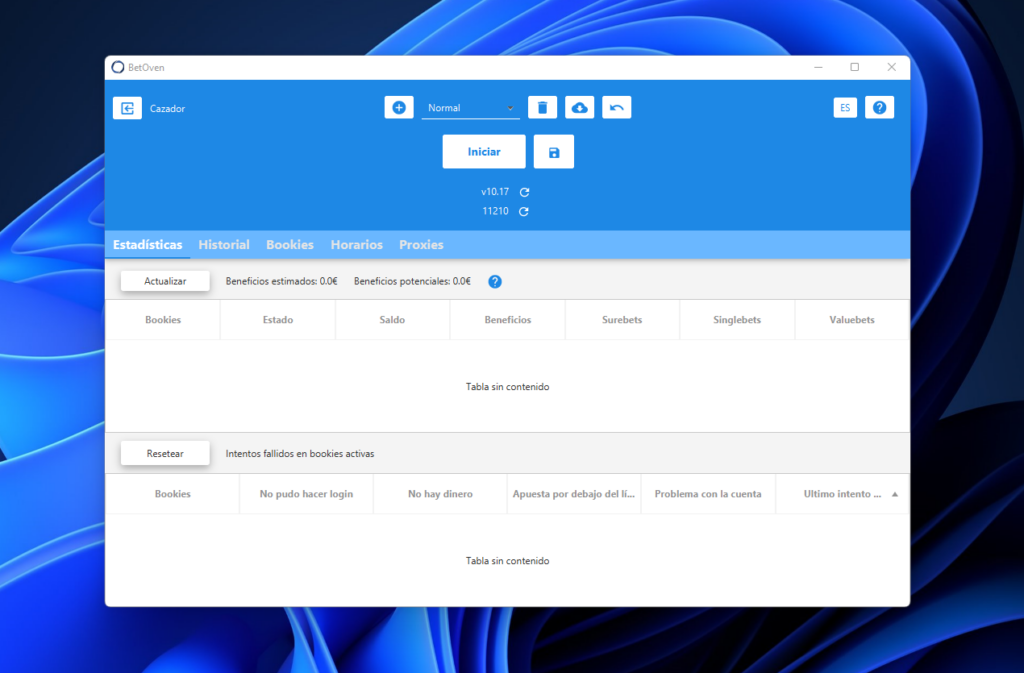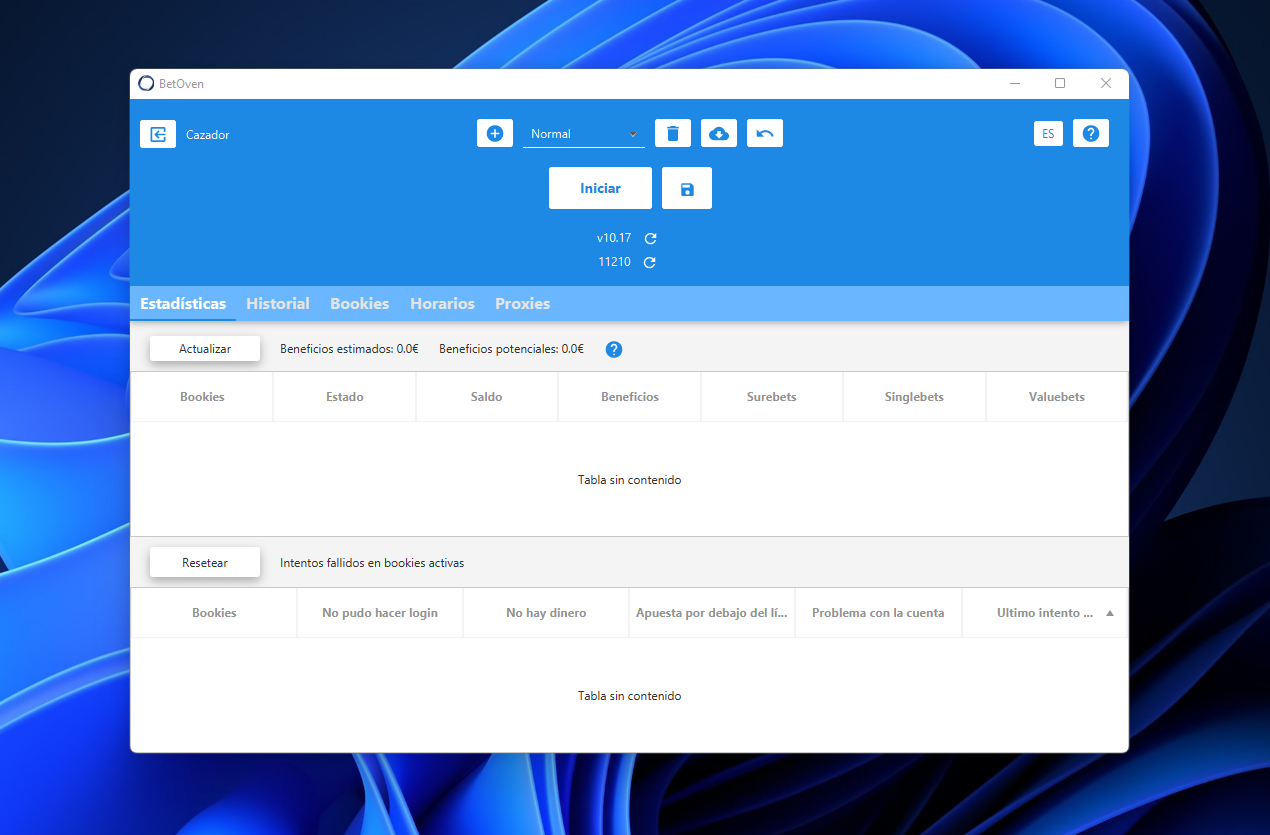 If BetOven does not restart, the update could not be performed correctly. Don't worry, it usually has a very simple solution:
Access the BetOven folder located within the following path: C/ Program Files (x86) / ArbRoast SL / BetOven
In it, simply double click on the file: updates (it has a gear symbol like the one you see selected in the following image)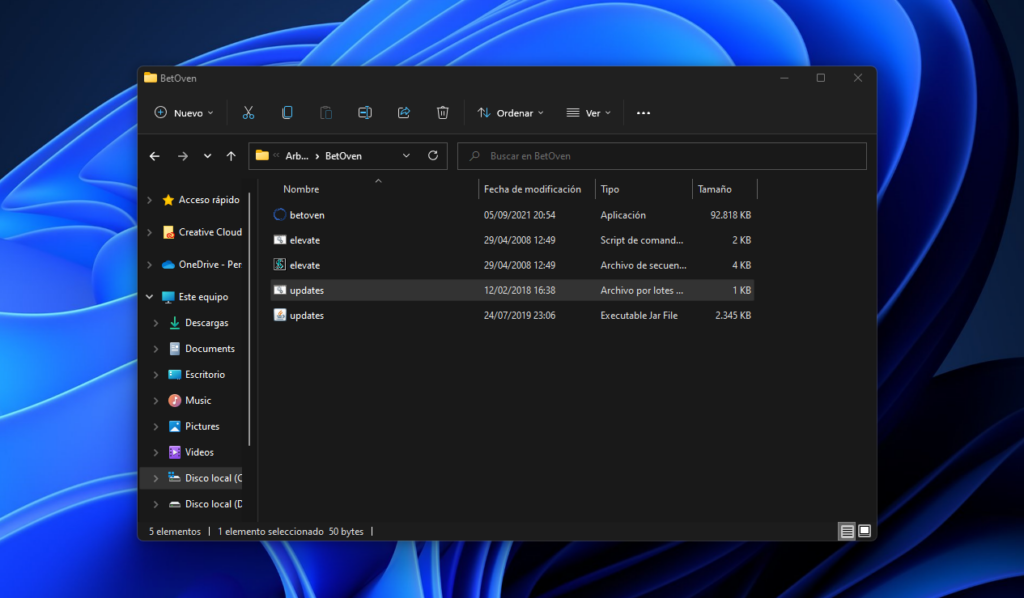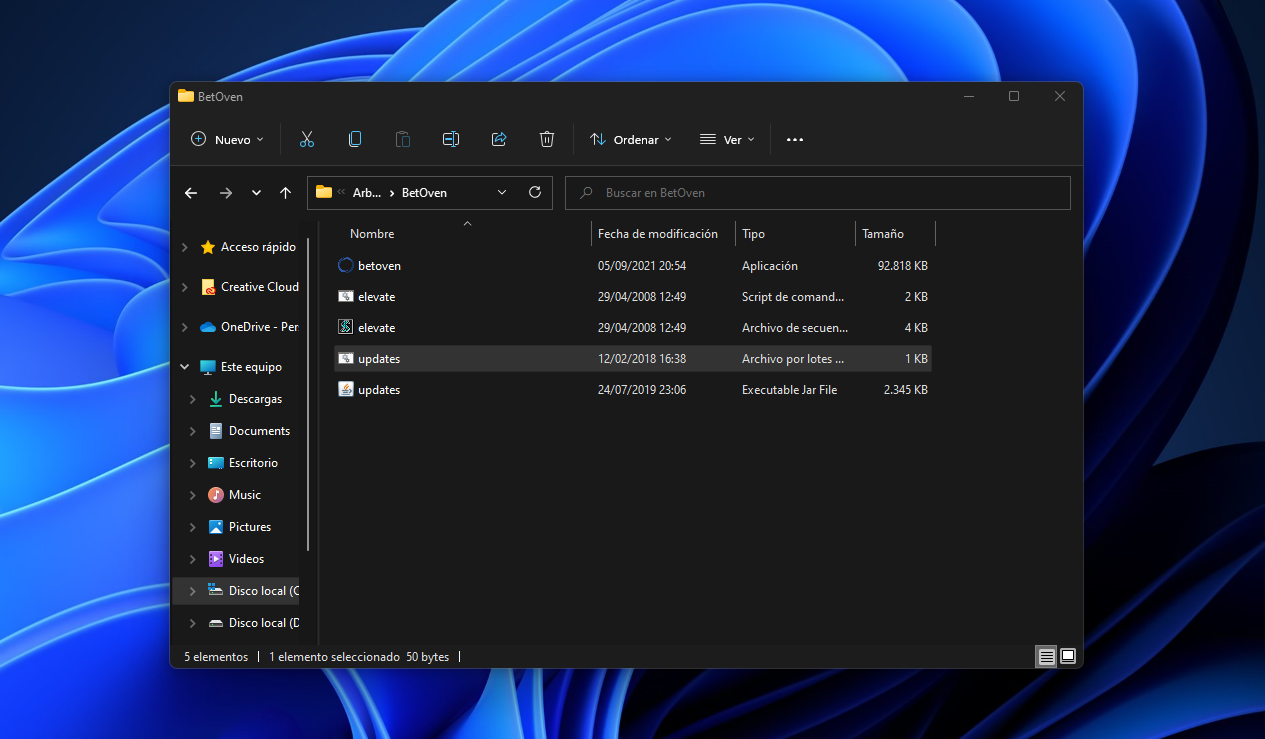 2. Create configuration profile
The first thing you must do is create a configuration profile , in which you must enter all the configuration of your bookies, filters, schedules, proxies, etc. Information that will be saved on the server, so that you can open this same profile at any other time and place (either on a computer or server).
Press +

In this example the configuration name will be Test. Enter the one you decide and press accept.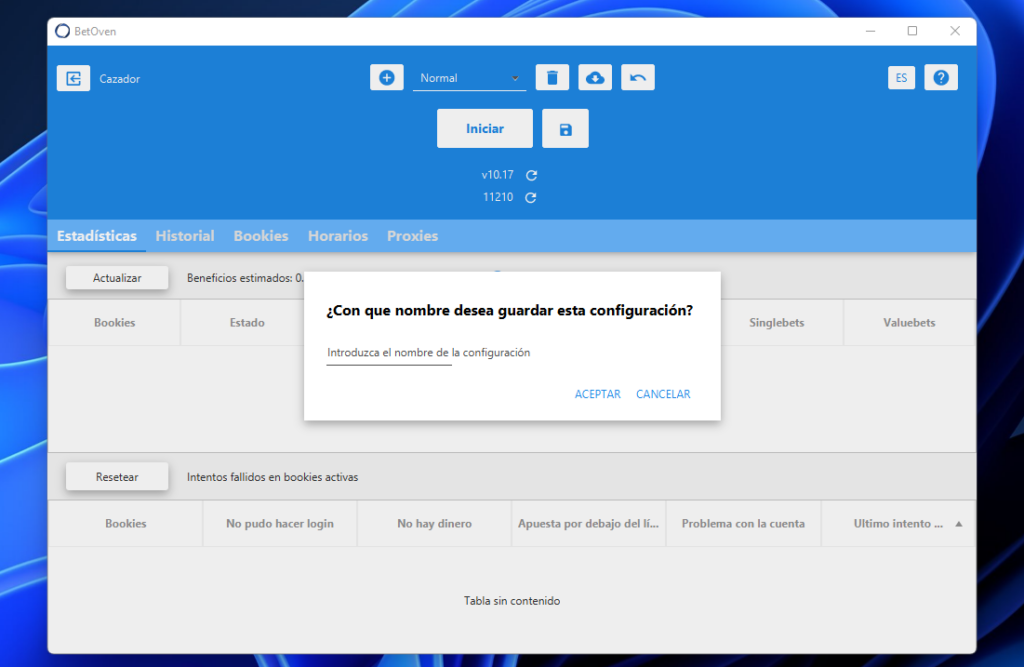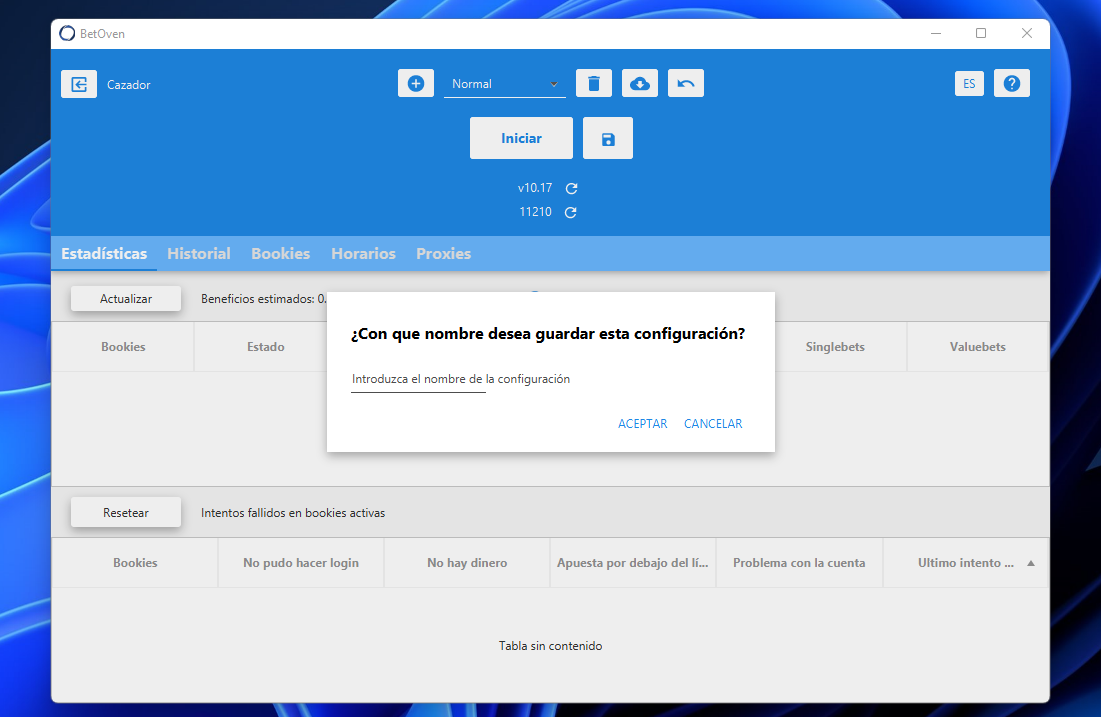 You can have multiple configuration profiles, although in this example we will only configure one.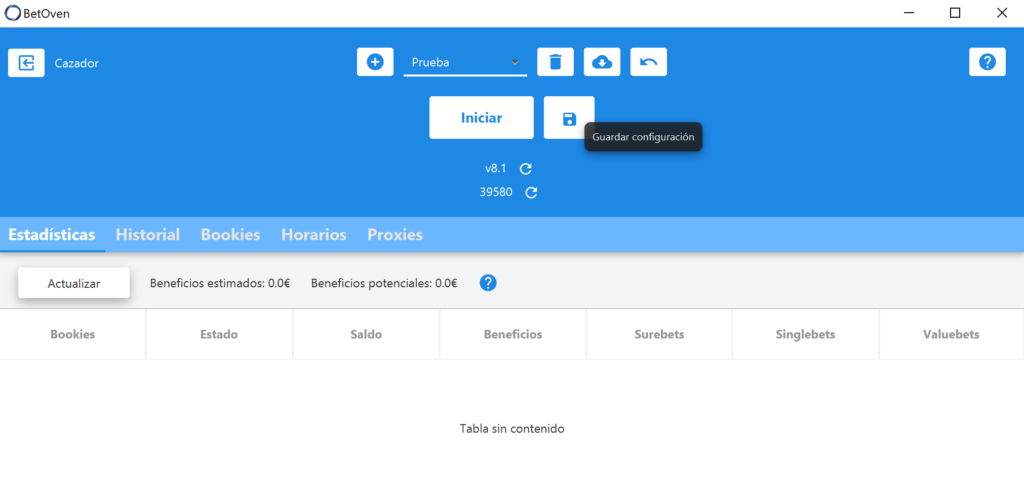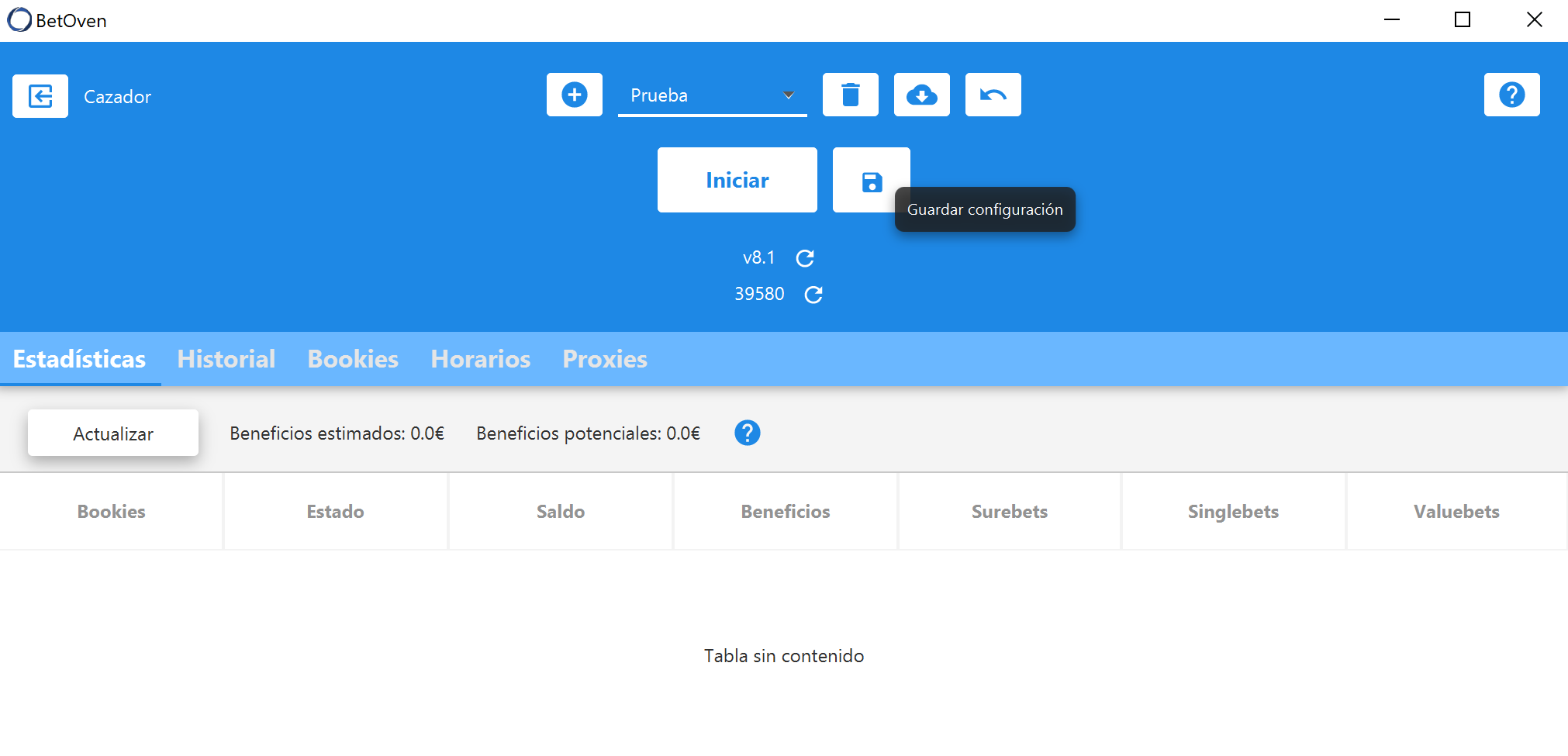 Tap on 💾 to save your settings.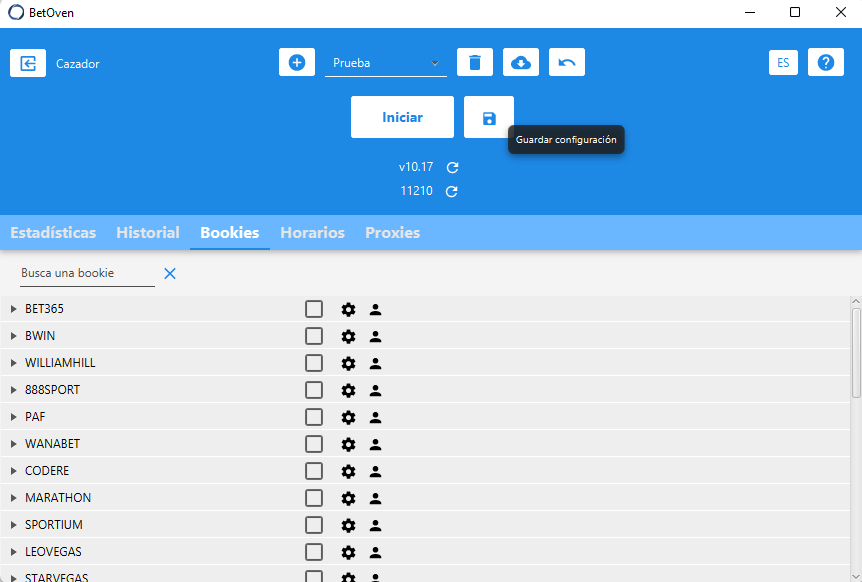 Once the configuration profile has been created, we go with the important thing, the configuration of our bookies in BetOven.
3. Configure your primary and secondary bookies
Before setting up BetOven you should understand the concept of Primary and Secondary bookmakers:
Bookie Primary
When we mark a bookie as primary we make BetOven look for surebets between it and the other active bookies (both primary and secondary).
Secondary Bookie
When we mark a bookie as secondary, we allow BetOven to make surebets between it and the other selected Primary bookies. In addition, these bookies will always make bets in the first place in the process of making a surebet. When one of our bookies is limited , it is 100% recommended to configure it as a secondary bookie. If we place it as primary, and make surebets against other bookies that are not limited, we run the risk of making many singlebets.
Why is setting a bookie with limitations (partial or definitive) as Primary an error?
It's simple, if it so happens that BetOven understands that this primary bookie must bet second, during the making of a surebet, and the other bookie he is betting against has no limitations, he may not be able to complete the surebet by not arriving. to the stake necessary to complete the surebet. I will give you an example so that you understand it better:
Imagine that we make a surebet between Betway (with limitations) and Codere (without limitations) both configured as Principal and both with a maximum configured investment of €100.
Let us now imagine that BetOven decides that Betway is more stable, that is, that it bets in second place.
Therefore, you make a €50 bet on Codere and to complete the surebet you need to bet €40 on Betway. But Betway has a limitation that prevents us from betting more than €20.
The bottom line is that Betoven will try to place several bets with Betway to complete the surebet, performing what we call Multistep (bet several times at the same odd to complete the bet) and in this process the odds can change leaving us with an open surebet or a singlebet. .
This is why, once the limitation is detected , it is better to configure said limited bookmaker as a Secondary bookie .
With or without bet365?
In previous versions it was mandatory to login to Bet365 for BetOven to work. In these new versions you can cross all the bookmakers available at BetOven finding a greater number of surebets.
It is still interesting to use bet365 because it is a stable bookie, with a large number of markets and with much fewer limitations than the rest of the Spanish bookmakers. However, in many cases bet365 makes changes to its website that oblige BetOven to put said bookie into maintenance. On other occasions we also find higher percentages of singlebets than normal that may temporarily discourage its use.
What happens if two primary bookmakers intersect?
In these cases, it is BetOven that, based on internal statistics, chooses which bookmaker is the most stable, and therefore, the one indicated to make the second surebet bet.
Here's an example for you to understand better:

In this situation the possible combinations of surebets will be the following:
BET365 VS BWIN
BET365 VS WILLIAM HILL
BET365 VS 888 SPORT
BWIN VS WILLIAM HILL
BWIN VS 888 SPORT
As you can see, all the bookies intersect, except for the following combination: WILLIAM HILL VS 888SPORT , since they are both secondary.
This configuration would be interesting if both William Hill and 888sport had some kind of limitation in which we were limited to the maximum stake of our bets. With this configuration, both bookmakers would place the bet of the two that make up the surebet first, reducing the probability of a singlebet occurring.
As we have already mentioned in previous posts, Bet365 has an advantage and that is the absence of limitations (at least in a long period of time) so we can apply a special configuration that allows us to make more surebets.
Specific setting of bet365 as Primary
Configuring bet365 is very simple, as you only have to mark it as active as it is shown on the screen.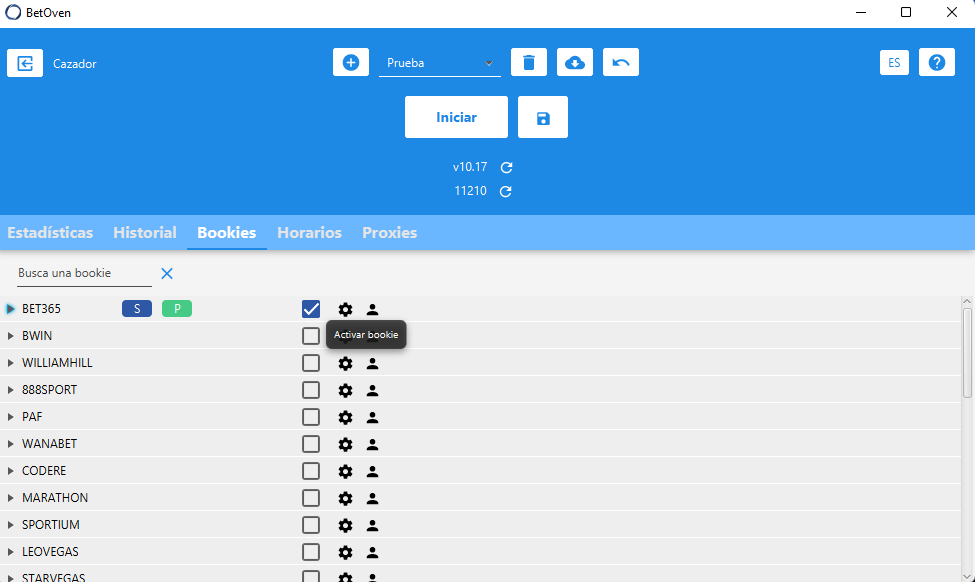 Keep all sports marked by default, allowing BetOven to place bets on any of the sports and markets offered by BET365. If you press the drop-down of markets within each sport, you will be able to see how they are all already selected by default, leave them that way.
If you press on the gear (⚙️) you will be able to see the default configuration of this bookie.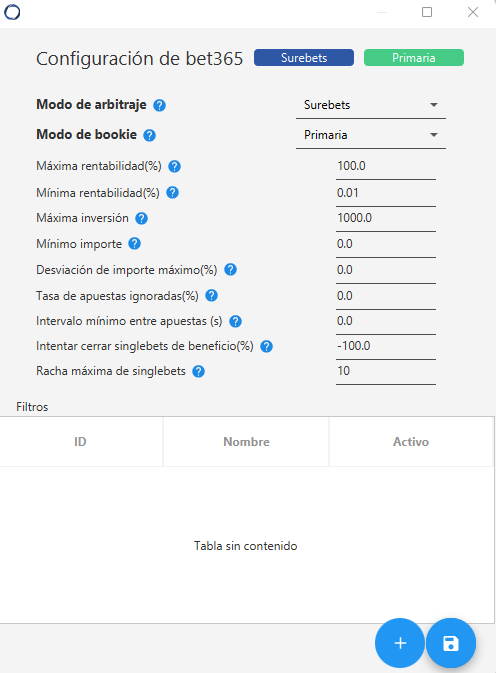 There are only two parameters that we recommend you modify based on your needs:
Try to close profit singlebets(%)
Maximum singlebet streak
The first of them I only recommend that you modify it if you want to reduce the volatility of your bets, if you want to know more, visit our blog post: Close singlebets, am I interested?
This second parameter is used to automatically stop BetOven when you have a single betting streak. If you are one of those who check BetOven many times throughout the day, you may be interested in lowering this parameter to a value such as 3 or 4. If, on the other hand, you are not so on top of the bot, we recommend higher values that prevent BetOven from stopping many times.
What to do before a streak of singlebets?
It is interesting to see that this streak is not due to a limitation by the bookmaker. In the case of bet365 it will not be normal, in other bookmakers it should be more taken into account.
Once the bookie is configured, add your credentials as shown in the following image: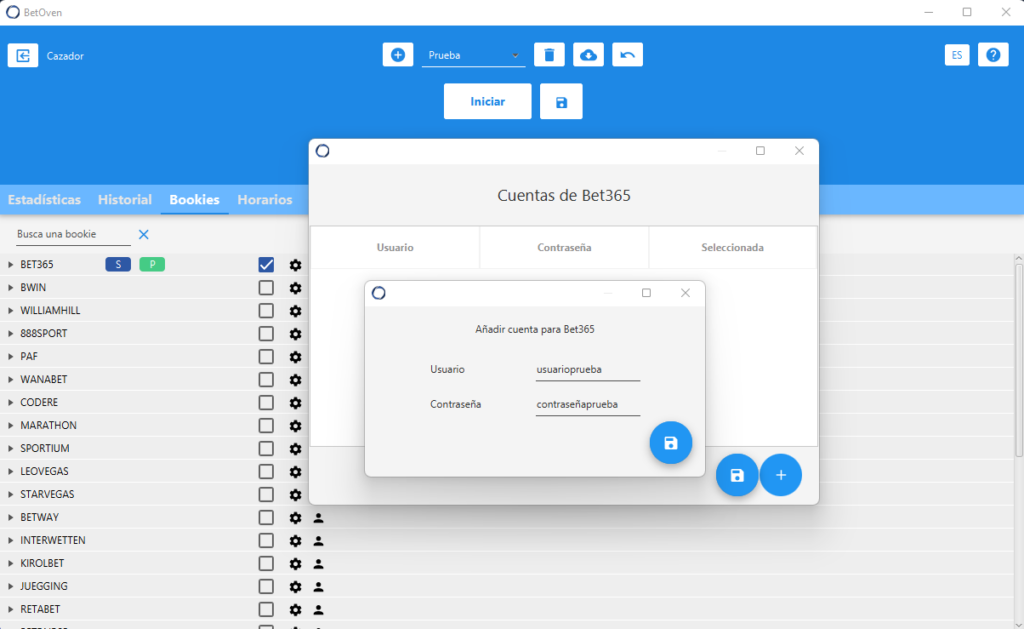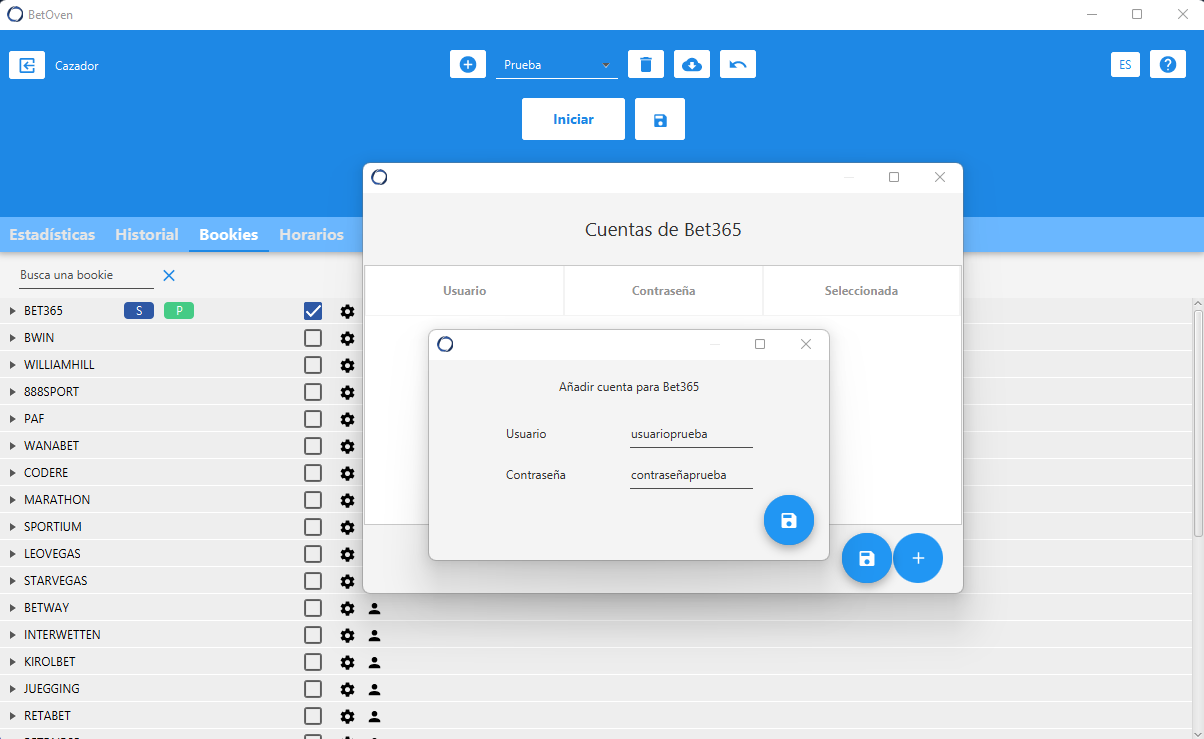 Enter your bet365 bookie credentials and press the 💾 to save.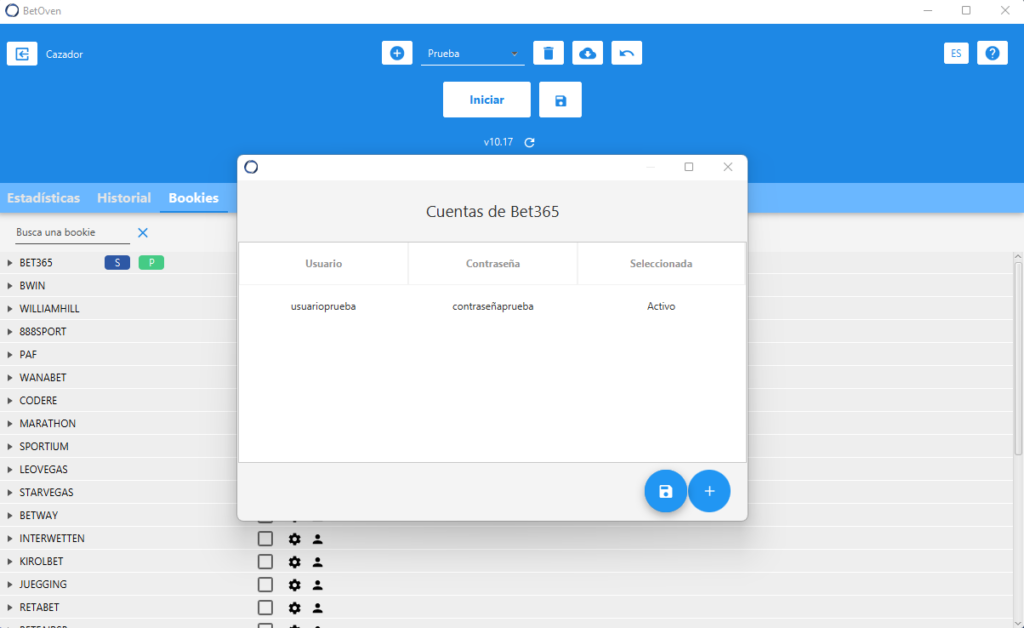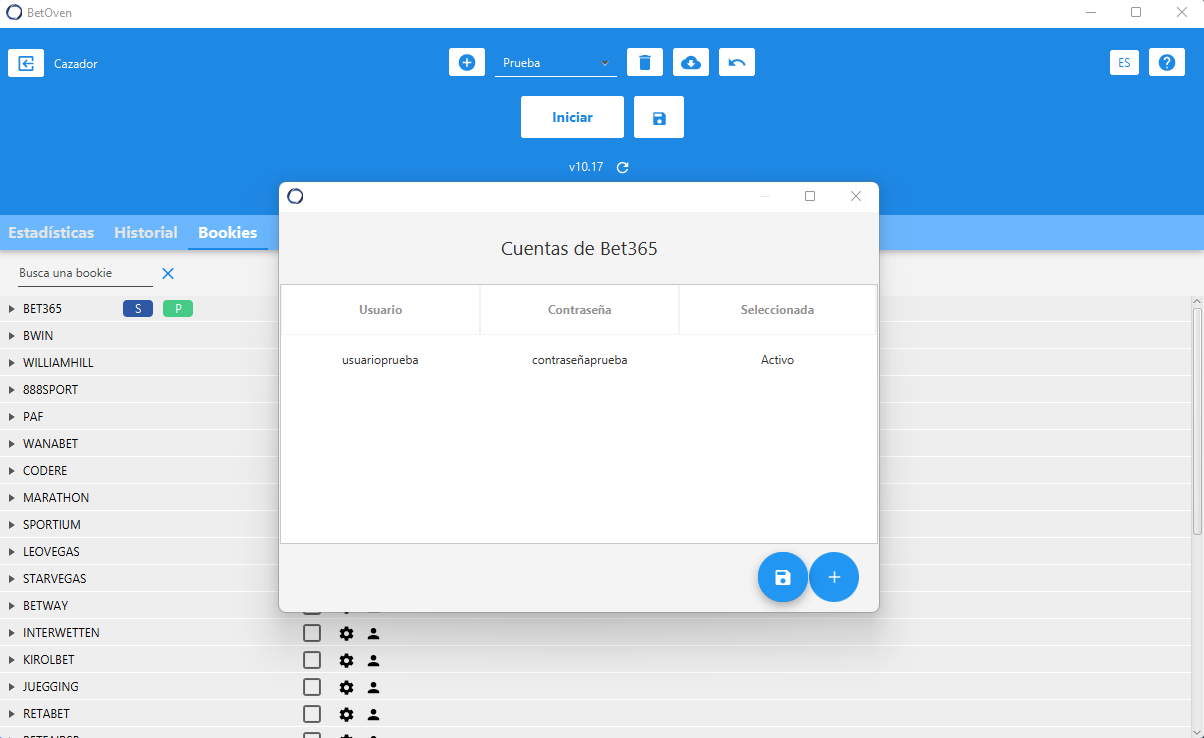 In order for BetOven to be able to connect to it, the credentials must be marked with the status Active .
Once this is done, you will have your bet365 configuration ready, the bookmaker with the fewest limitations.
Primary/Secondary Bookie Settings
To configure a bookmaker other than bet365 we will have to configure more parameters that you will see below. However, before making any configuration you will have to choose if you want it to be Primary or Secondary.
As I told you before, when I explained the differences between Primary and Secondary bookmakers, we will only leave as secondary those bookmakers that have some kind of partial limitation. In this way, BetOven will be the one that decides the betting order of the different bookmakers selected in the process of making a surebet.
1. Choose the Bookie Mode between Primary and Secondary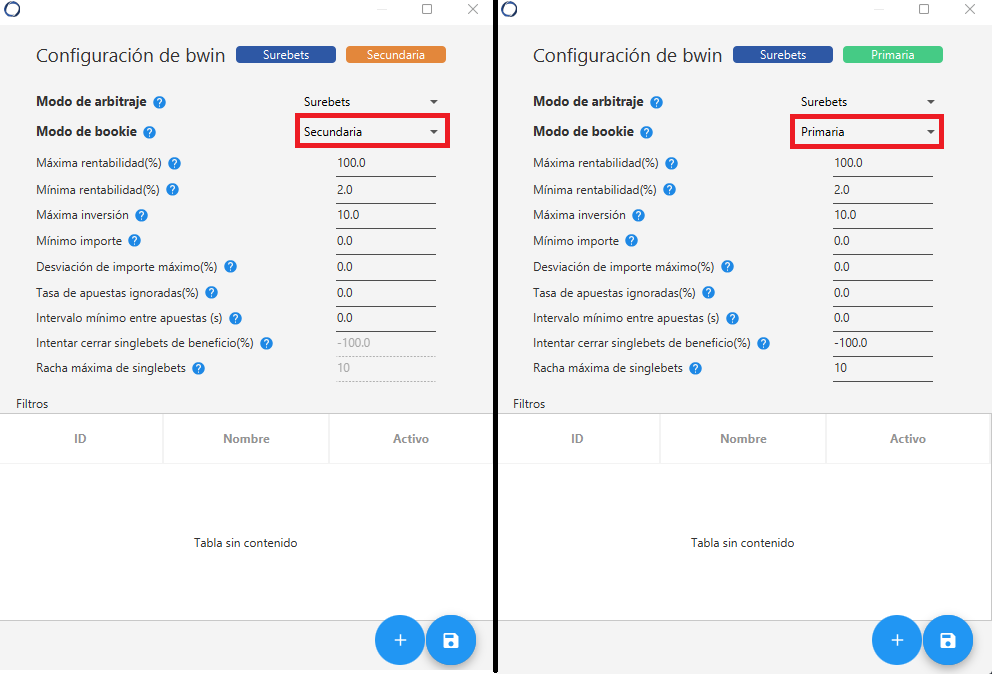 If it is your first time with BetOven the choice will be easy, you will have to choose the option: Primary .
2. Maximum profitability (%)
What is the point of filtering surebets with high returns? We might think that none, in the end we want surebets with high profit percentages. However, there are two reasons why we should consider filtering returns above 20%:
Greater limitations when making this type of surebets
Risk of quota changes, closing of markets and subsequent quota changes.
Likewise, at BetHunter we recommend keeping this percentage at 100%. The latest tests have given winners to the profiles with this configuration, since no great difference has been detected in the speed at which the limitations were produced.
3. Minimum profitability (%)
It depends on your way of working with BetOven. If you have many profiles, or want to earn money more quickly, we recommend values around 3%. If, on the other hand, you want to go for fewer surebets but that they give you a greater benefit, we recommend values close to 5%.
It is also interesting to know the number of events available to apply a more or less restrictive filter. If there are few events, I recommend that you use percentages close to 3%.
4. Maximum investment
This parameter must be related to the bank that you have to work with BetOven. From BetHunter we recommend high values, which allow you to earn more money before a possible limitation. However, keep in mind the volatility caused by the appearance of singlebets that occur when these surebets are not closed.
If you do not know what we are talking about, I recommend that you go through the following post: What are surebets or sure bets?
We recommend values from €100 to €250 for surebet.
If you are a beginner in this world, you will probably be interested in working with smaller values: from €50 to €150.
5. Deviation from the maximum amount
This parameter is used to avoid limitations, modifying the maximum investment value randomly downwards by the indicated percentage. We recommend values from 10% to 40%. It is not one of the most relevant parameters.
6. Rate of ignored bets (%)
It is also used to avoid limitations, however, at BetHunter we recommend leaving it at 0. For us it is more interesting, in this case, to increase the value of Minimum Profitability (%) also decreasing the number of bets made, but with a higher percentage profit per surebet made.
7. Minimum interval between bets
This parameter has several purposes:
It further humanizes surebets software behavior.
Avoid possible streaks of singlebets.
Avoid repetitions of bets. Behavior that may prompt bookmakers to apply limitations.
For all these reasons we like to recommend about 200 or 300 seconds between bets. If we have many bookies configured as Primary, it may be interesting to reduce it a bit, since there will be more chances to find surebets. In the latter case, we believe that it is more interesting to increase the Minimum profitability (%).
If you have configured your bookmaker as Primary, you will have two more parameters to configure:
8. Try to close profit singelbets (%)
As we already recommended in the specific configuration for bet365, we do not recommend modifying this value, unless you want to reduce the volatility of your accounts, you can read more about this parameter in the following post: Close singlebets, am I interested?
9. Peak Singlebet Streak
As we already recommended in the specific bet365 configuration, if you are one of those who checks BetOven many times throughout the day, you may be interested in lowering this parameter to a value such as 3 or 4. If, on the other hand, you are not so on top of the bot, we recommend higher values that prevent BetOven from stopping many times.
Once this is done, all you have to do is add the credentials and save: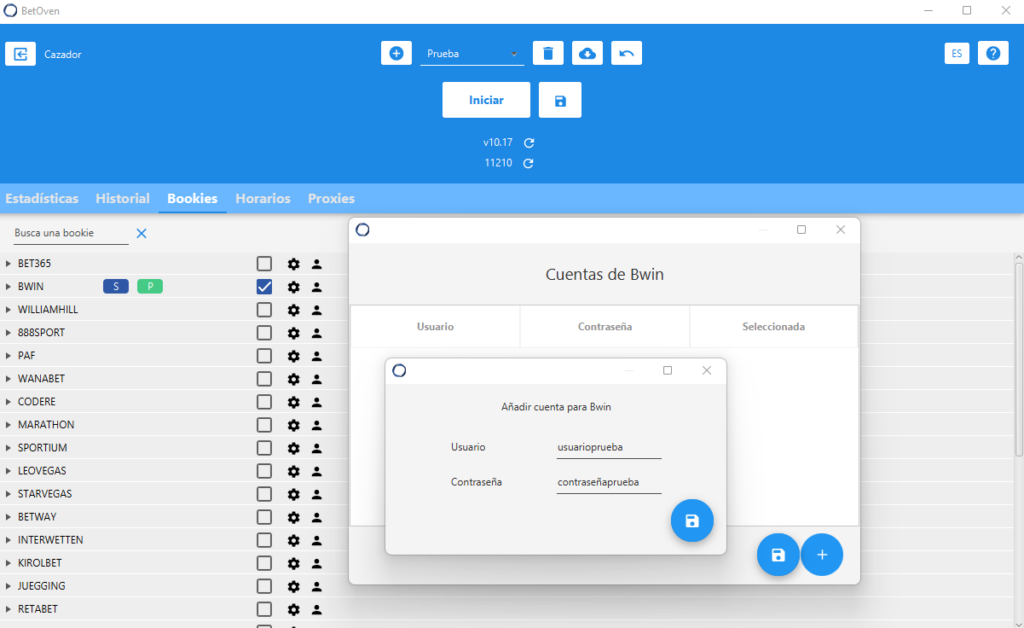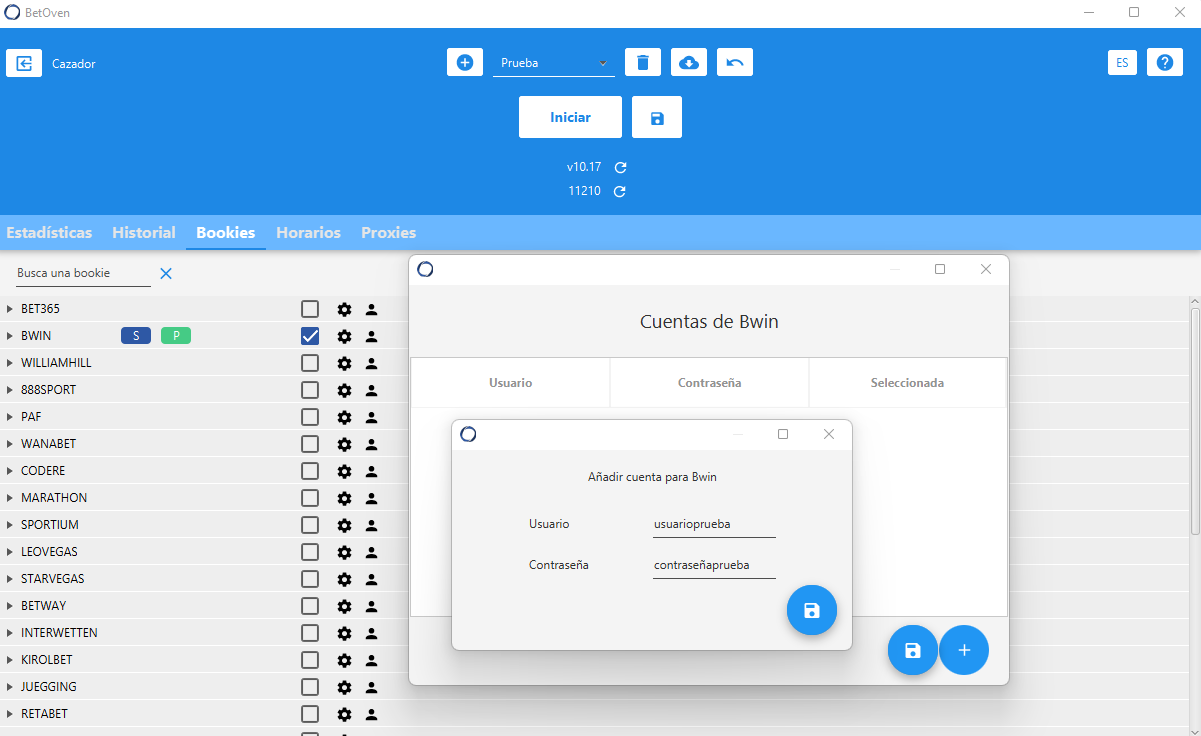 Once you have made the settings for all bookmakers, don't forget to press 💾 to save.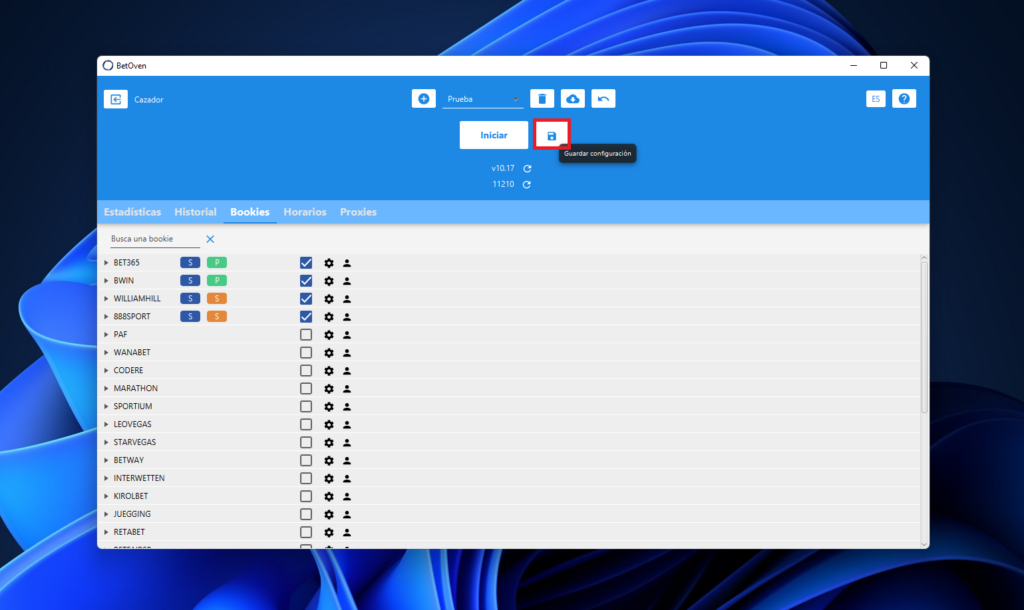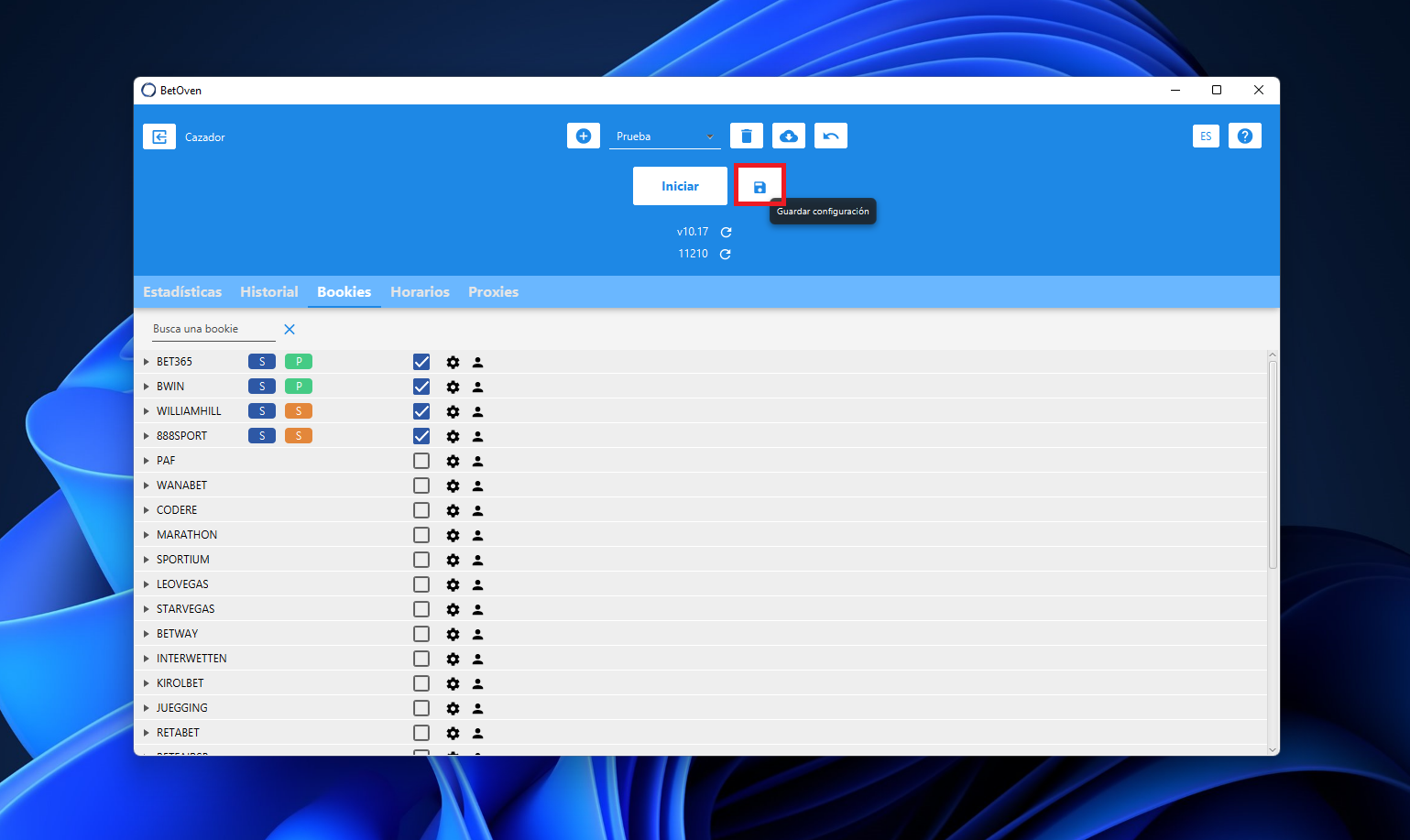 4. Press Start and enjoy the show!
Press start, in the event that any of the bookies do not have the correct credentials, BetOven will not be able to connect and some type of error will appear.
If you don't get any kind of error, congratulations you've got it!

---
5. Goodies
To find out the status and balance of your bookies, go to the statistics tab, where you can also see your estimated and potential profits (estimated profits with bets pending review)
If you are connecting from another country or using some kind of server, keep in mind that you will need a proxy. If instead you do it from your home Wi-Fi or connected to your mobile with a 4G connection, it will not be necessary.
If you click on the history section , the bets you have made with BetOven, arbitrations pending review and arbitrations made will appear.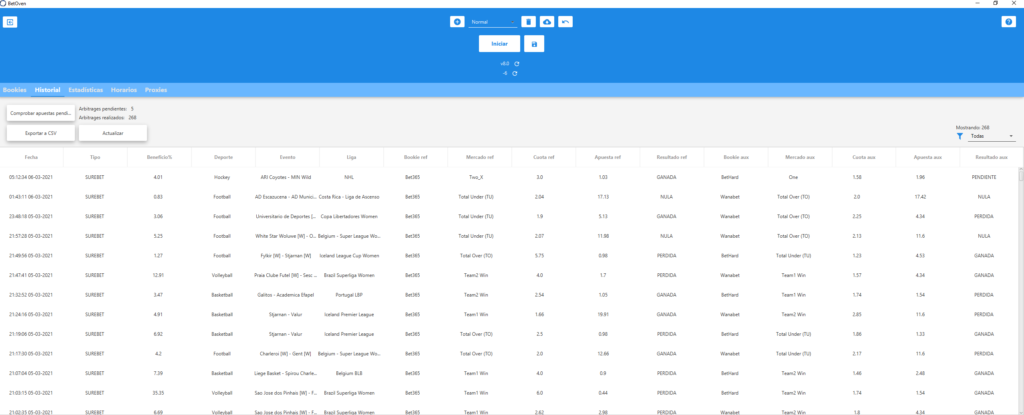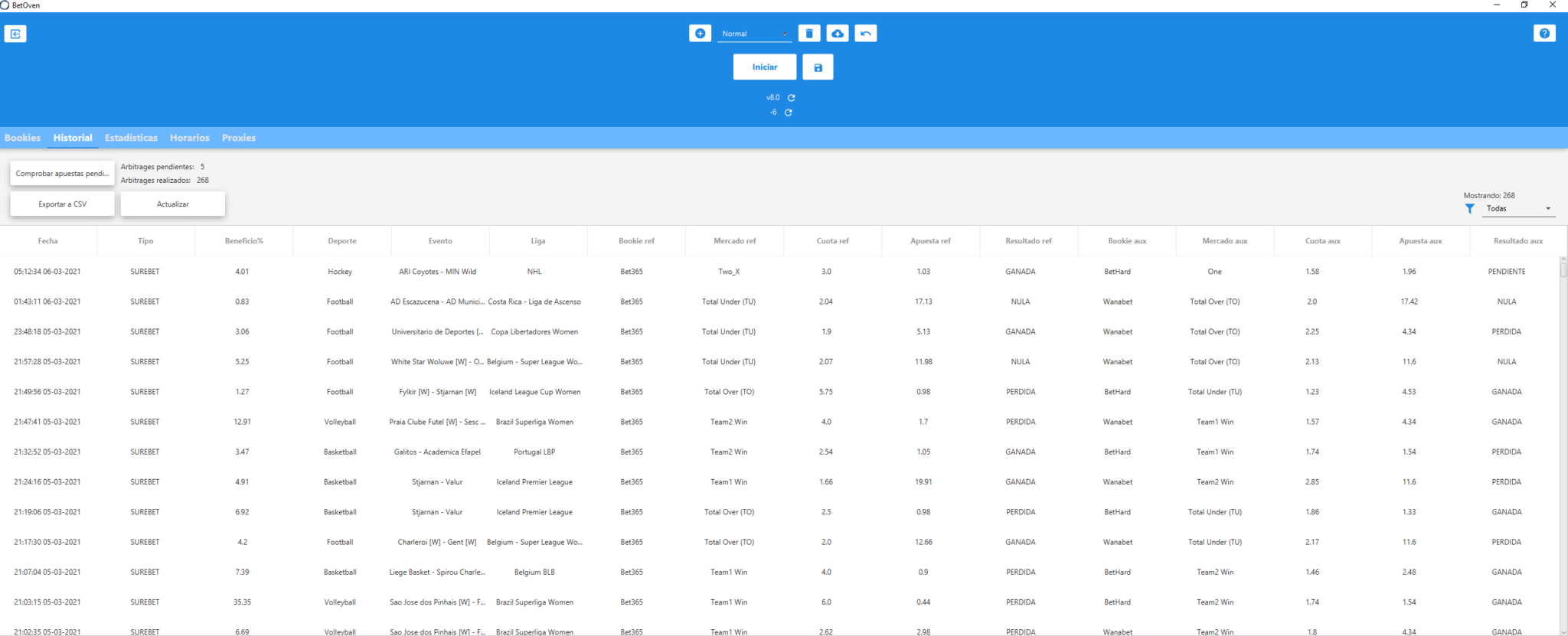 As we mentioned before, if you click on the statistics section in addition to seeing the status of your bookies, you will see the estimated and potential benefits.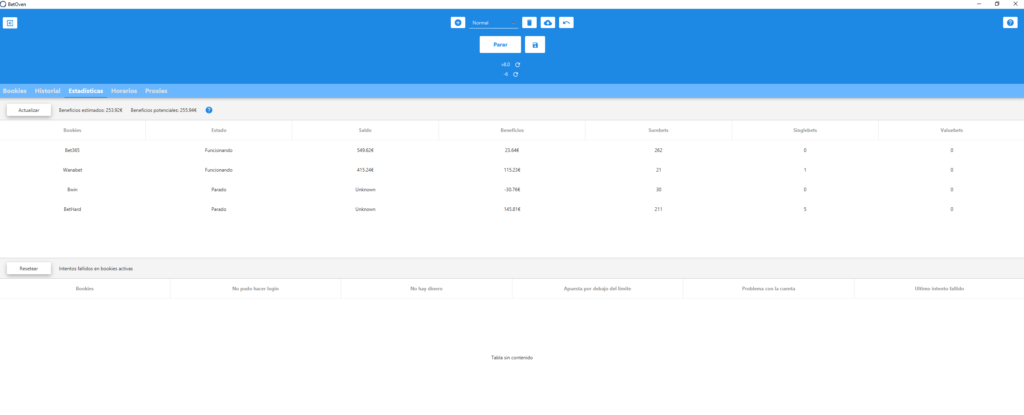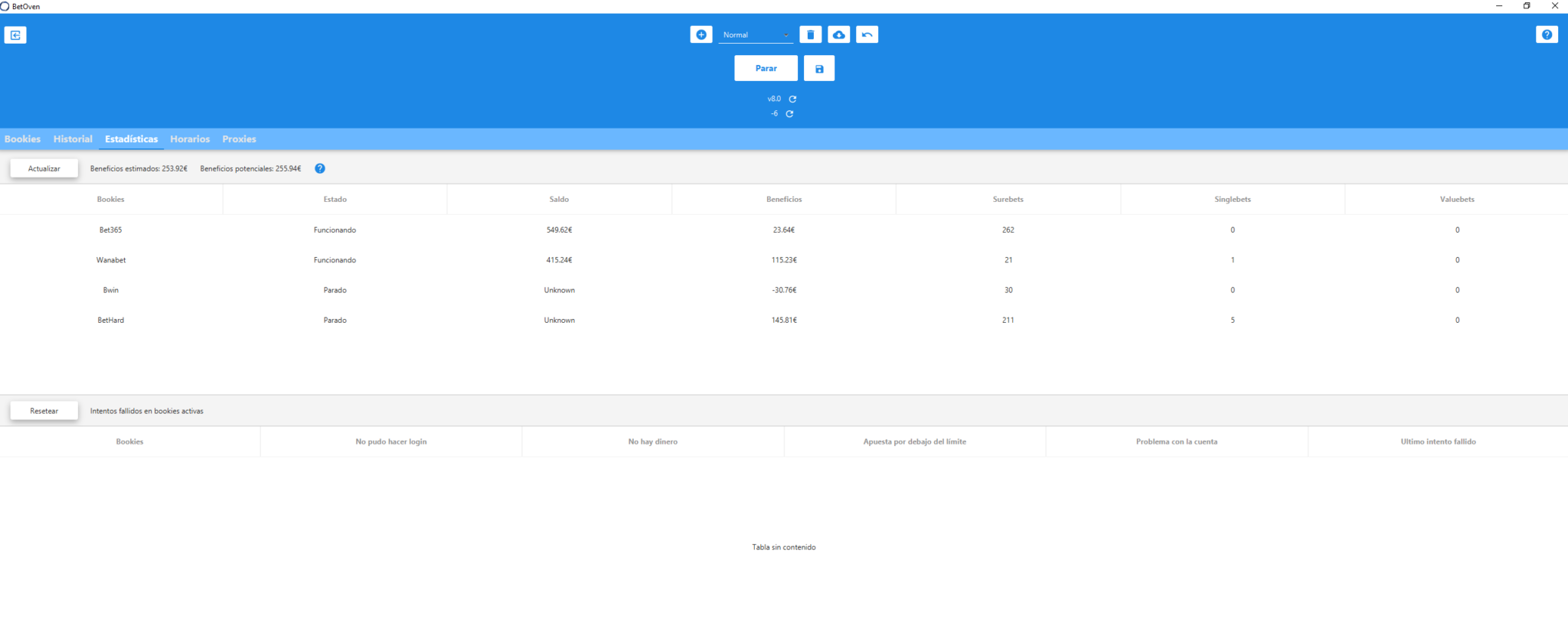 You can also view them at the following statistics link :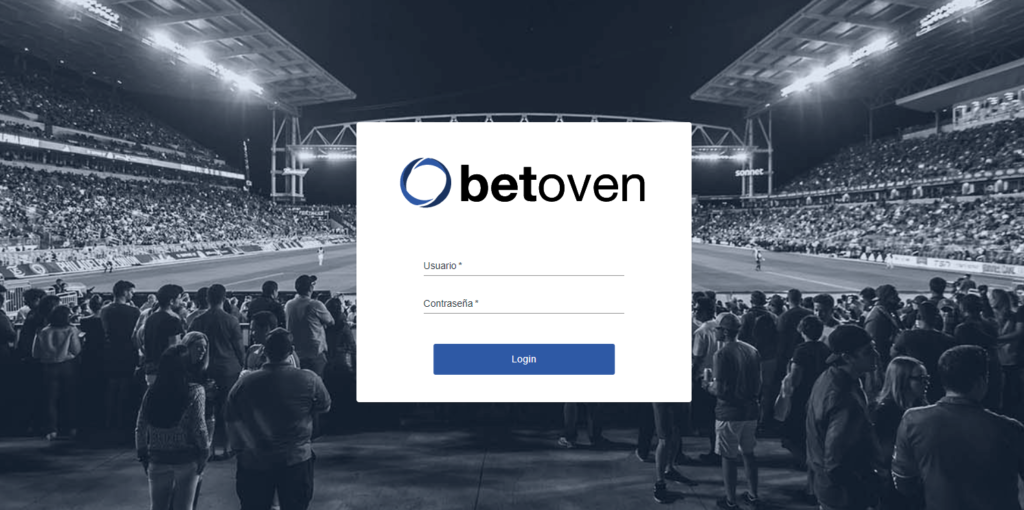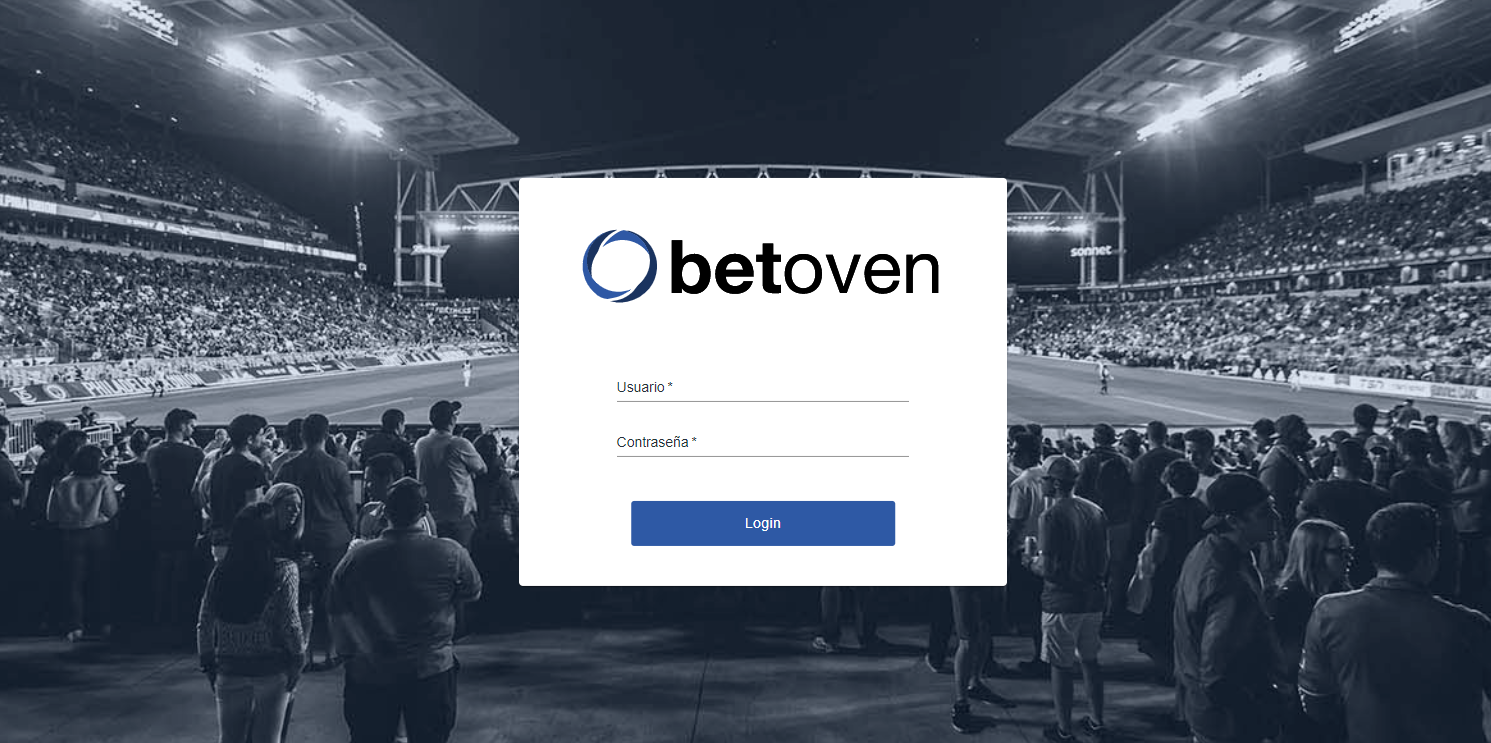 The Schedules/Proxies sections are not necessary for a single profile, but they will be very useful if you manage more profiles at the same time.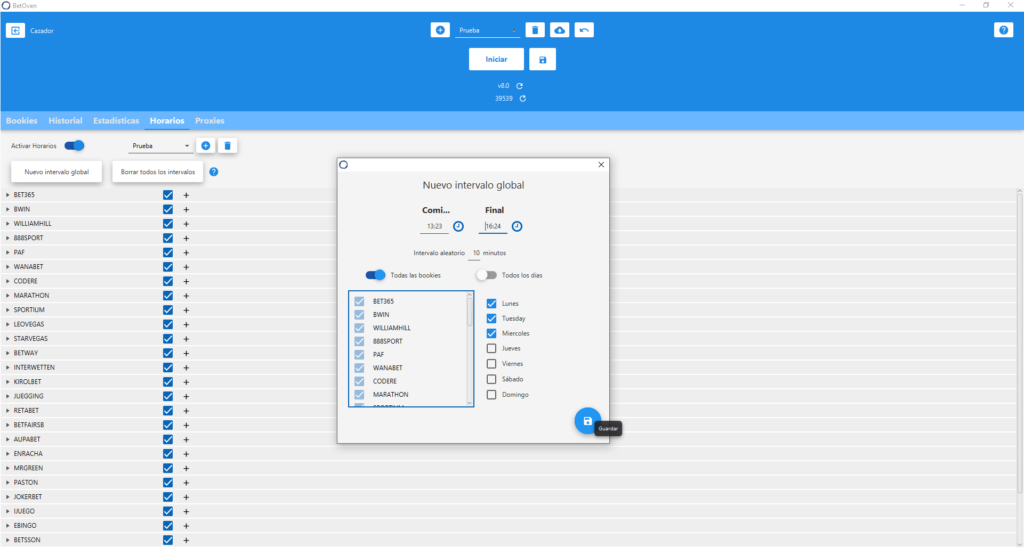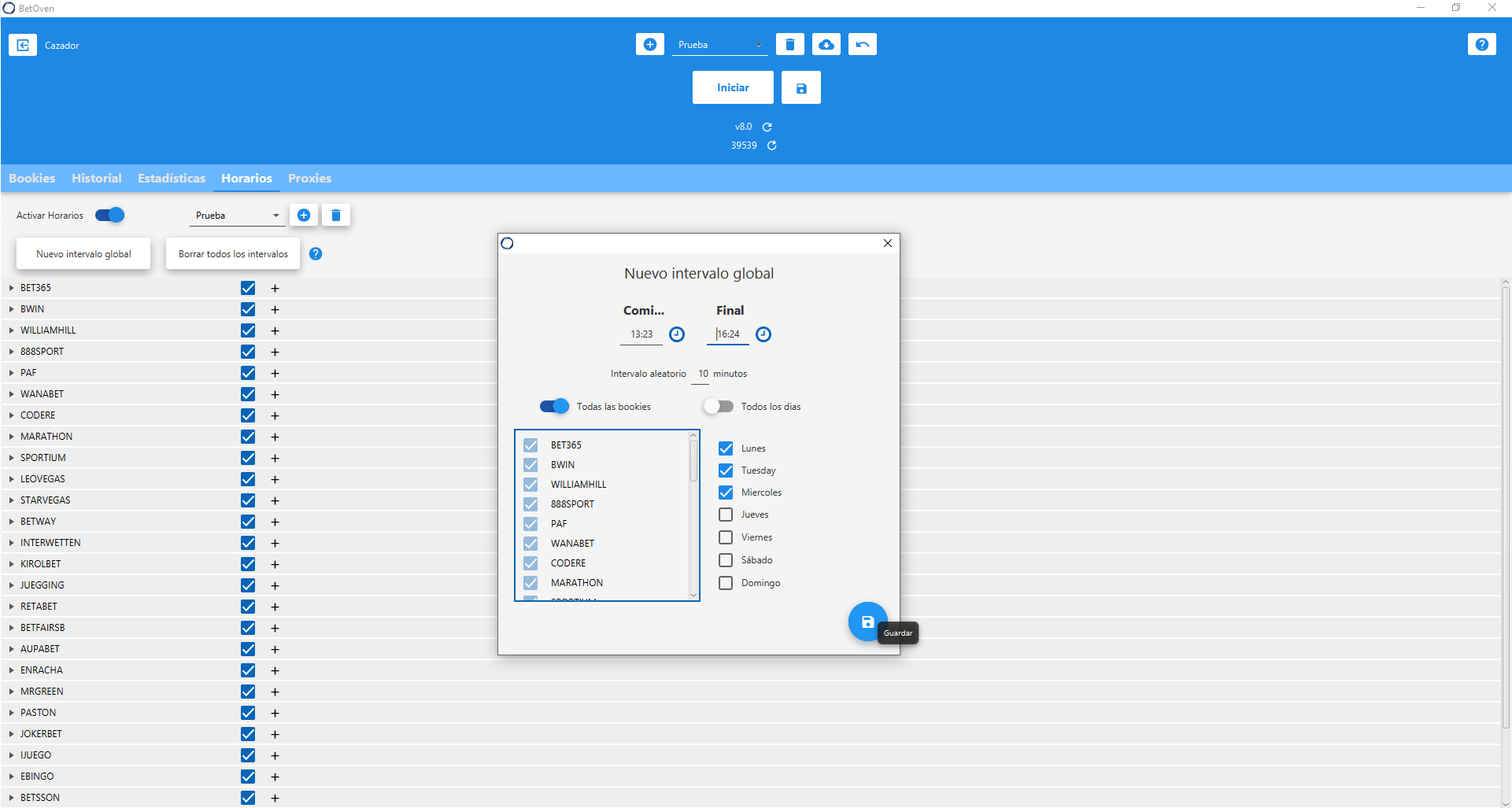 If you use only one BetOven connected to your wifi, you won't need to use a proxy… However, to use several BetOven on a computer or server, it will be very necessary:


If you want to know more about how to configure BetOven, go to youtube!