What to do when a bookie does not log in correctly at BetOven.
If you have been working for a while you will have had login👤 problems with one of the available bookies.
In this article I will tell you about all the possible causes of this error and possible solutions ✅.
First of all, let's define what a login problem is.
Sports trading strategies
This is a problem that arises when BetOven cannot automatically connect to one of the selected bookmakers. Which one? Easy, the one that appears in the error message.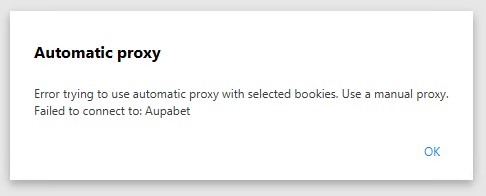 The causes of a login problem can be:
1. Incorrect bookie credentials
If this is your first time using BetOven's automatic login and your credentials fail, it is very likely that you will need to verify them. This is a very typical problem that we take for granted and then when we check them several times, we get this look on our face 😅.
2. Incorrect bookie credentials
We can have several problems with the bookie, from acceptance of new terms and conditions, pop ups announcing something new, to a real problem, in which the bookie is blocking access, for example when it asks for an extra verification document.
When this happens you must manually log into your bookie. I explain how to do it:
The quickest way is to go to the proxies section of the BetOven application and press the browser button. If there is the possibility in the bookie it will allow us to log in automatically without having to enter our credentials. If it doesn't work, try it without pressing the automatic login option.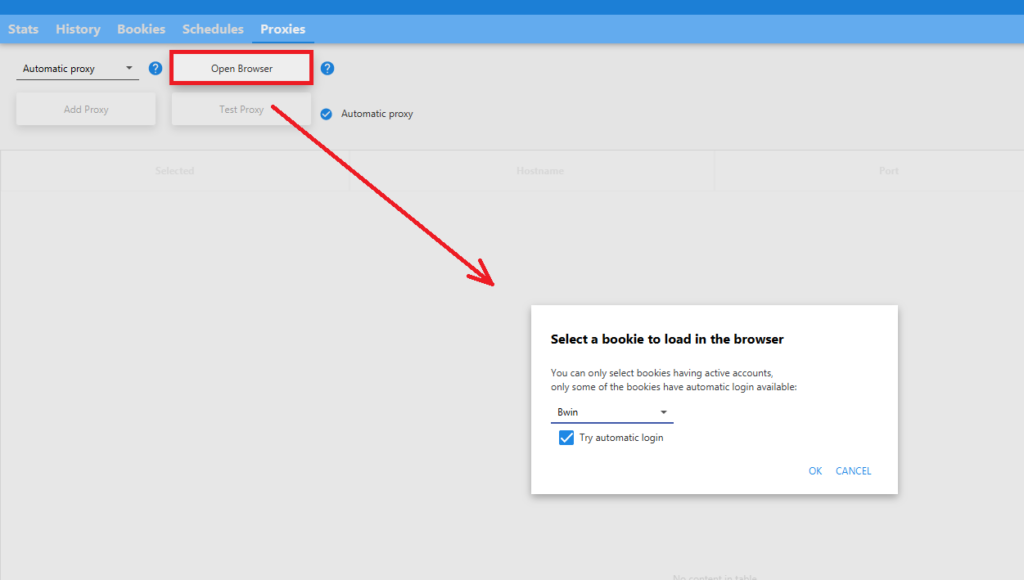 3. Letter "ñ" in the password
Sometimes we Spaniards add the letter ñ to our passwords or profile names. I do not recommend it.
The letter ñ is a symbol that can cause errors in the BetOven login. If you can connect through the BetOven browser manually or automatically and then cannot log in, take a look at your passwords.
If any of them have the "ñ" symbol, change the password and try again at BetOven, you will surely succeed.
4. Connect without automatic proxy
The automatic proxy BetOven is a spectacular tool for those who work with a large number of profiles at the same time, however, be aware that the IP's of this proxy mode are from external providers. and bookmakers often ban these IPs, rendering them unusable.. And although BetOven changes them for new ones automatically it can sometimes take longer than we expect, or it may simply temporarily run out of IP's for that bookmaker.
The solution for this problem once detected is: either remove that bookie from the configuration and test in a few days if it connects normally or try to work without proxy or with proxyapp in that profile. Any of the above options will not give us any problems.
5. Verify installation of BetOven and Chrome
Although in these cases BetOven usually sends a Error⚠️ message and asks us to verify the installation 🛠 , it can also happen that this problem creates a login error.
To do so, I recommend that you carry out the following checks:
Do you have

the java version

correctly installed? Remember that only the java version that you have downloaded from the download folder on our website works correctly.

Do you have

any antivirus

other than Windows Defender? Some antiviruses burn the installation of BetOven and although no errors appear during installation, they may cause some BetOven functions to not work.

Is

Chrome installed in the

correct

Program Files (x86)

folder as indicated in the installation video?
Note: In the past there has also been the following case: chrome updates itself and saves the update in the wrong ProgramFiles folder. You could solve this problem by simply copying and pasting the google folder back into the correct position inside the Program Files (x86)/Google.
6. General BetOven problems
As you may already know BetOven updates 💾 every few months to adapt to any changes on the websites. When it is confirmed that a bookie has made changes to its website, it is informed via the telegram channel.
If it has not been reported and you can't find another possible cause, please contact our support telegram, you could be the first one with such problems.
Before contacting support, I recommend that you verify that the bookie enters through the browser from the proxies section automatically within the bookie. This will give us clues as to whether or not the bookie with the problem has been able to change the programming of their website.