Many of you have asked us how to reduce the volatility of your profiles when too many singlebets appear. If you do not know what singlebets are, I recommend that you go through the following post first, which will make the concept clear to you: what are surebets?
Once you know what these uncompleted surebets are and the possibility that many of them are valuebets you have two options:
Do not close singlebets
This option has a higher volatility, but in most cases it will provide better profits, since many of these singlebets will be valuebets, bets with a positive mathematical expectation. That is, in the long run you will earn money doing them.
However, this option has a drawback and that is that you will have to have a larger bank (more money reserved) to assume possible losses due to unwon singlebets.
In case you don't want to close these singlebets just leave the default value -100 in your primaries.
Try to close singlebets
For several BetOven updates you have a parameter that allows you to close losing singlebets with your primary.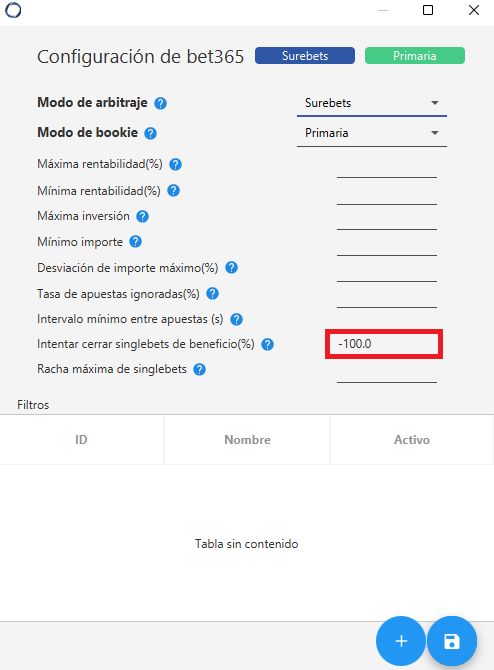 In this case we see an example with bet365 but it could be any other primary such as Betfair SB. Remember that this parameter will only work if it is applied to the primary, which is the one that closes the operation.
Let's talk about the values to use:
This parameter can be configured with values from -100 to 0.
Why not just set an ON-OFF?
Basically, because we may not want to close a singlebet immediately after it happens. BetOven always tries several times to close that singlebet as a positive surebet hoping that the odds will change in our favor again. It is for this very reason that it is not interesting to close a singlebet so quickly, or at least not to do it if the quota has changed very little.
This percentage value that we modify is the value of the benefit of the virtual surebet from which we want to try to close the singlebet in negative surebet (that is, in surebet with losses)
Because if we set a minimum surebet profit % of 5% we can have lower percentage surebets?
This is a question that you ask us very often, and it has an easy answer: because when carrying out the operation, the quota could have changed, forcing BetOven to continue with a surebet of lower value, always trying to prevent the appearance of a singlebet.
Our recommendation
We only recommend its use to people with a small bank, in this way they will avoid volatility but will lose money on each closed singlebet.
The recommended percentage if you want to close singlebets is between -5% and -10%.
When the percentage is less than -5%, it has the possibility of being closed, so it is interesting to wait for the possible closure of BetOven in positive surebet before a new change of quota.