Have you ever wondered, "How can I maximise my winnings in sports betting?" If so, you're in luck. Today, we're going to reveal the secrets of a powerful ally in this field: Oddstorm. But wait, there's a twist in the story…. 🔄
Oddstorm is a renowned betting scanner that specialises in finding the best odds available at various bookmakers. Its main objective is to identify surebets, where, regardless of the outcome, the bettor always wins.
It offers a very fast scan update rate and a wide range of betting tools and filters, making it an ideal choice for professional arbers who focus on football.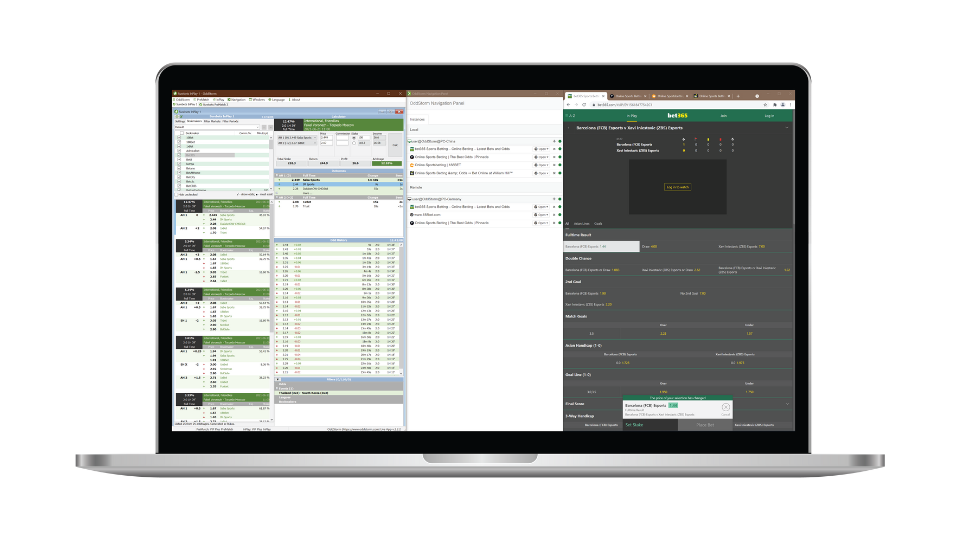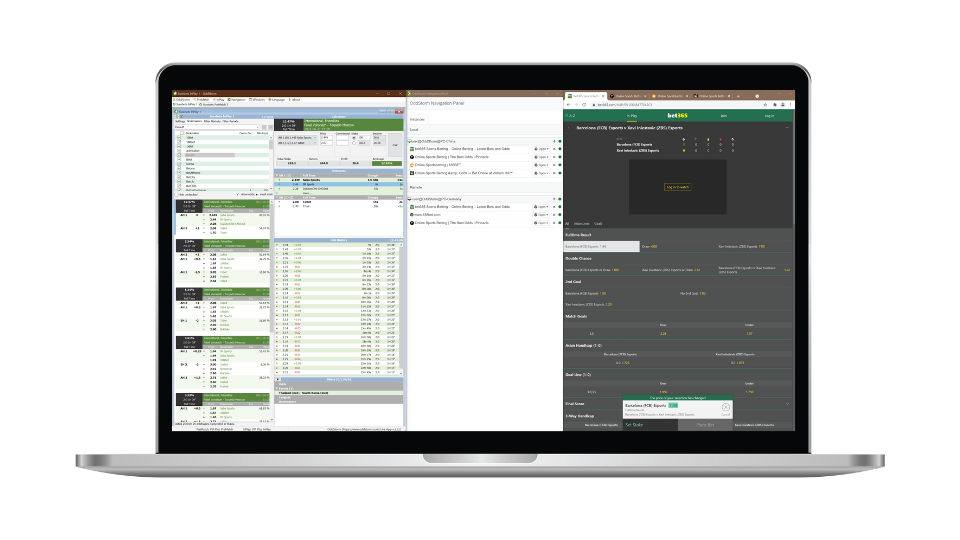 How does Oddstorm work? 🧠💡

OddStorm scans pre-match and in-play event odds, showing relevant odds differences between bookmakers. This can be used for various betting strategies, such as arbitrage betting, matched betting, value betting and other smart betting activities.
Unique advantages of Oddstorm 🏆.
One of the highlights of Oddstorm is its navigation tool, which allows you to automate your betting activity, open the bookmaker and the betting slip with a single click. This tool saves time, allows you to place more bets and reduces the risk of missing opportunities due to changes in odds or events.
Another significant advantage of Oddstorm is its speed. It has the fastest scan update rate in the industry except for BetOven, with an in-game scan occurring every 1-3 seconds and a pre-match scan every 15 seconds. In the case of BetOven it is 1 second, although Oddstorm's figures are commendable.
In addition, Oddstorm covers a wide variety of bookmakers, including 71 bookmakers and many of their clones.
OddStorm is primarily for experienced bettors due to its higher subscription prices and advanced features. Beginners may find it challenging to generate enough profit to cover the monthly fee without prior experience in placing arbs and using filters.
If you are looking for a more affordable alternative to OddStorm, I recommend you try BetOven Scanner, a free tool that also provides an excellent bet scanning service. Like OddStorm, BetOven Scanner also focuses on surebets and valuebets. However, unlike OddStorm, BetOven Scanner allows for greater customisation with multiple filters to catch only the surebets and valuebets you really want 👇🏼(English Subtitles)
In addition, if you are interested in further optimising your sports betting, you could consider trying BetOven Robot, a surebets and valuebets bot that automates your betting activity. With BetOven Robot, all you need to do is add your bookmaker details and configure which surebets or valuebets you want to make. After that, simply press "Start", and let BetOven Robot do the work for you. This service is currently available in Spain, the UK and Italy.
In short, OddStorm is a fast and perfect arbitrage scanning service for experienced bettors. Their navigation tool helps you place more surebets than other bettors. If your activity is based on football or eSports betting, OddStorm could be one of the best solutions.
However, if you are a beginner or are looking for a more affordable alternative, we suggest that you try BetOven Scanner and BetOven Robot. Estas herramientas también proporcionan un excelente servicio de escaneo de apuestas y pueden ser una gran manera de mejorar tus apuestas deportivas. Recuerda, el camino hacia el éxito en las apuestas deportivas requiere paciencia, estrategia y las herramientas adecuadas. ¡Buena suerte! 🍀
We hope you have found this guide useful. If you have any questions or comments, please do not hesitate to contact us. We are here to help you! And if you liked this article, don't forget to share it with your friends! 📲💬