The Statistics panel is the area of BetHunter from which you can control, in real time, data on the performance of your investments such as: the estimated profit, the number of bets made, the balances of your bookies, and much more. Taking advantage of the avalanche of questions that the launch of this new section has raised, we are going to try in this post to create a complete guide, adding some definitions to the darkest concepts in the world of betting.
Let's start with the Top Menu :

From here you can navigate between the three main sections:
BetHunter Statistics:
In this section we break down your performance so far with BetHunter . Let's go panel by panel, trying to define some of the more obscure concepts for the average user as well:
Estimated benefits: the first panel does not have much mystery. However, we do want to make it clear that these benefits are a (fairly close) estimate of your actual results. Some practices of the bookmakers, such as the modification of odds a posteriori, can distort the final results. Don't worry, at BetHunter we check that you always win what we have promised you when you buy one of our plans.
Total arbitrations: arbitrations, surebets… are terms that refer to the same thing. In short, this dashboard is a counter of how many times BetHunter has found an opportunity to make money and exploited it.
Last arbitration: this data is one of the most important in this panel, because it is precisely thanks to this panel that you can help us improve your returns with BetHunter. It is relatively normal for our bot to be down for 2 or 3 days, but if you see that it takes more than 5 days without placing any bets, let us know through our Support form (subject: Several days without placing any bets).
Earnings per bookie: from this tab you can see how each of your bookies have performed (we do not show Bet365, since we use it as coverage for our surebets. The interesting comparison is between the different auxiliary bookies). If there are pending bets, they will not count towards your estimated profits, so you will have to wait for 0 to see your real results.
Arbitrations: as we have mentioned before, the different business opportunities that BetHunter has executed are shown here. Let's analyze one by one, the different categories:

Surebets – This is the most common category, and implies that an opportunity has been successfully executed. If you want to know what a surebet is like, you just have to watch our presentation video .
Valuebets: these are surebets that we have not been able to cover at Bet365, because in the time it took to place the bet in the auxiliary bookie, the odds at Bet365 changed. These bets, in general, have to be winners, although they can cause losses eventually. This is what is known as volatility .
Middles – imagine a basketball game in which the total number of points scored is 180. If in your auxiliary bookie we have bet on Under182.5pts, and on Bet365 on Over178.5pts, both bets will be winners. That is, you will not lose any of the two bets, multiplying your winnings. These types of bets are extremely profitable.
Wrongbets: these are wrong bets made because of the bot. A failure to read the data, to calculate… We are not perfect, although we work tirelessly to get as close as possible. Fortunately, these types of bets are very rare.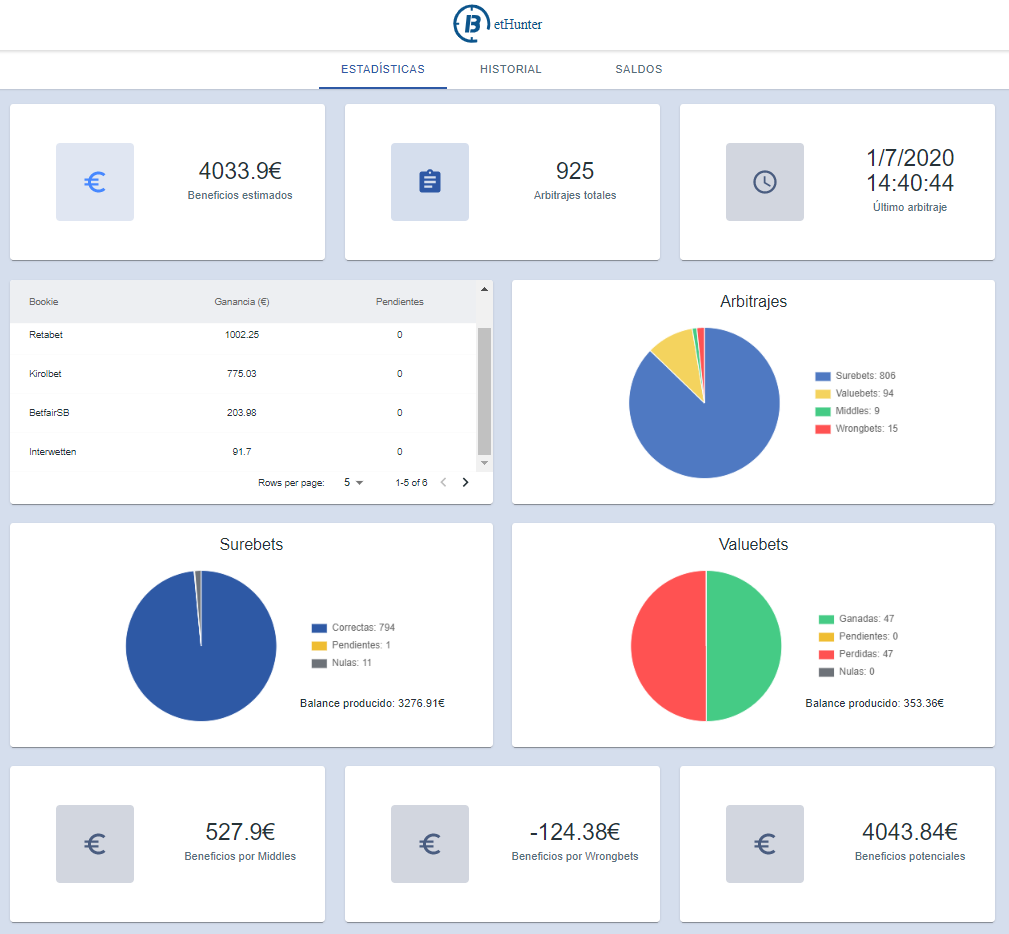 Surebets: In this panel we have three categories: Correct, Pending and Null. With voids, we refer to matches in which we have successfully made a surebet, but then they have been cancelled. This happens sometimes, usually due to the weather where the match is being played.
Valuebets: in the case of open bets, it is essential to know if we are having good results or not. This panel gives us all the necessary information.
Benefits by Middles and by Wrongbets: what are we going to tell. While it is normal for the Middles panel to be very positive (relative to the number of Middles made), it is also normal for the Wrongbets panel to be losing. There is nothing to worry about if this is the case.
Potential Profits – This panel adds the potential results of pending bets to the Estimated Profits.
Record:
This area is quite simple to understand in general. From here you can see the history of your placed bets. Although they are arranged chronologically, this section includes a filter (so you can classify your bets by type), and a search engine, at the top.

The red and green colors in the names of the bookies indicate where each bet has been lost and where each bet has been won. The letter S indicates the stake (the amount) wagered, the letter O refers to the quota (Odd, in English), and the letter W , to the absolute benefits of the bet (for Winnings).
Balances:
Finally, the balances tab allows you to see at a glance the money you have deposited in each of your bookies at any given time. It is important to note that these figures are constantly changing as BetHunter places bets.
Some things to keep in mind in this section are:
When there are open bets, the stake used to make them is subtracted from the balance of the bookie. It is normal, therefore, that while BetHunter is working, and there are pending bets, the balance is lower than what was initially deposited.
If a bookie has a low balance (less than €100) and there are no pending bets, it is advisable to deposit some money in it. This is something common, since several surebets can be won in a single bookie, concentrating all your balance in only one of them. Although we will automatically notify you by email when this happens, you can follow this eventuality from this tab.
When rebalancing (re-entering money in an empty bookie), we recommend re-depositing an amount of around 400-500 euros.
And this would be all… for now. At BetHunter we are constantly working to improve our service, so we may release new improvements in the near future. If you have any proposal, you can leave it in the comments below.