Hello bethunter! You may experience problems when updating BetOven. Unfortunately this is a relatively common problem, but it is easily solved in 99% of the cases.
The typical problem when upgrading is that you get a crash when the black code advantage opens and you get an error, or it just disappears very quickly.
I will give you two solutions to solve this problem:
This is the simplest solution, but it is not effective in many cases.
It consists of double clicking on the Windows Batch File with the name updates strong inside the BetOven installation folder.
This is the location of the folder: Windows /Program Files (x86) / ArbRoast SL / BetOven.
It is easy to find because it has a gear symbol inside a window.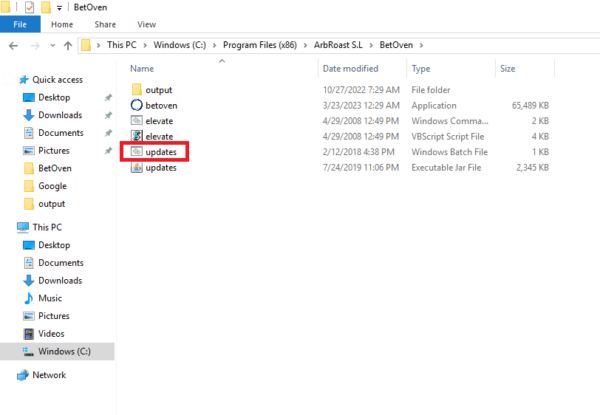 If it updates normally when you press it, you don't need to do anything else, just log in to BetOven and check that there is indeed no problem. If the problem persists, don't worry, let's go to the final solution.
The ultimate solution to an update problem is to manually update BetOven ourselves.
To do so, we have to unzip the BetOven update file in the BetOven folder. We just need to go to the folder where the zip file of the update is downloaded.
Go to your administrator user on your computer and look for the folder with the name betoven. Please note that on your computer this administrator user may have another name, the one you gave when you installed Windows on your computer, or when you first set up your computer.
One way to quickly find out which is the administrator user, if you have several users is to see in which user the last modification was made, look at the dates and enter the user with the most up to date date date.
Once inside the betoven folder, you will find one with the name updates. Go into that folder and you will find the BetOven update there.
Right-click on the compressed file and select the option: Extract All…(Extract All…), click the Browse button and find the BetOven installation folder: Windows /Program Files (x86) / ArbRoast SL / BetOven.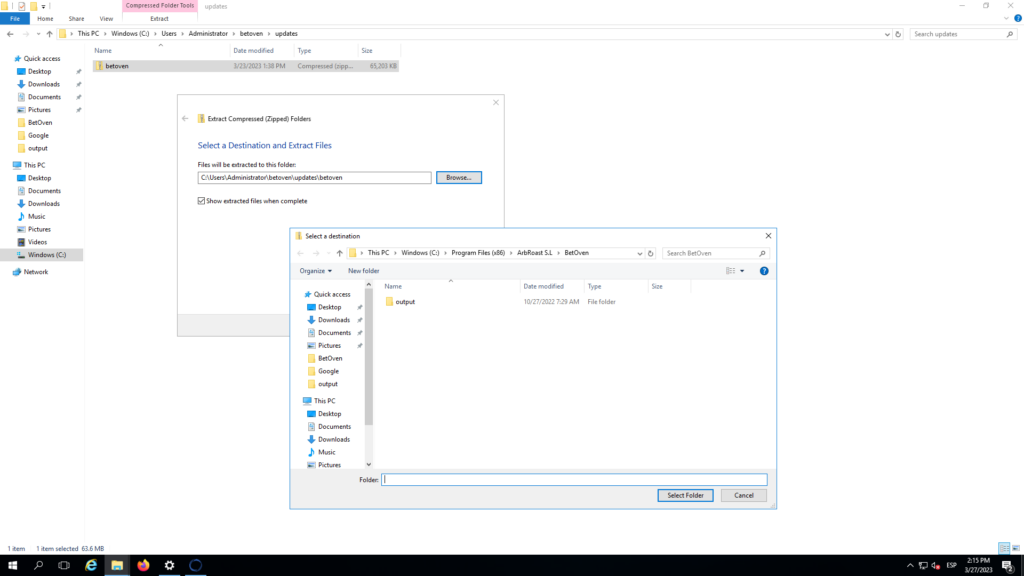 Once selected, extract all files there and press replace all when windows asks you to do so.
Once the extraction is complete, BetOven has been manually updated. Log in with your profile and check that it has indeed been updated correctly.
If with this last solution you still have problems updating BetOven, I recommend that you contact our support by telegram:
Haven't tried the best and only surebets and valuebets software yet? Request your free trial below! 👇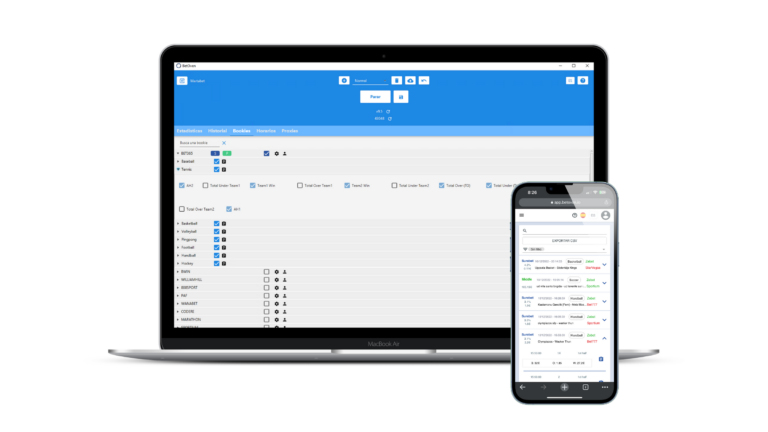 Try BetOven
25 pounds FREE in bookmaker winnings
✅100% Automated Surebets
✅ 100% Automated Valuebets