Juegging has rejected your withdrawal. We hope not, but you may have received an email like this. Most likely, it is because you tried to withdraw your money shortly after depositing it, without having placed any bets.
If you read more carefully, they will tell you that it is because they have detected an activity in your account contrary to art. 28 of the Law on the prevention of money laundering and the financing of terrorism, and article 38 of Royal Decree 304/2014, but what does this mean?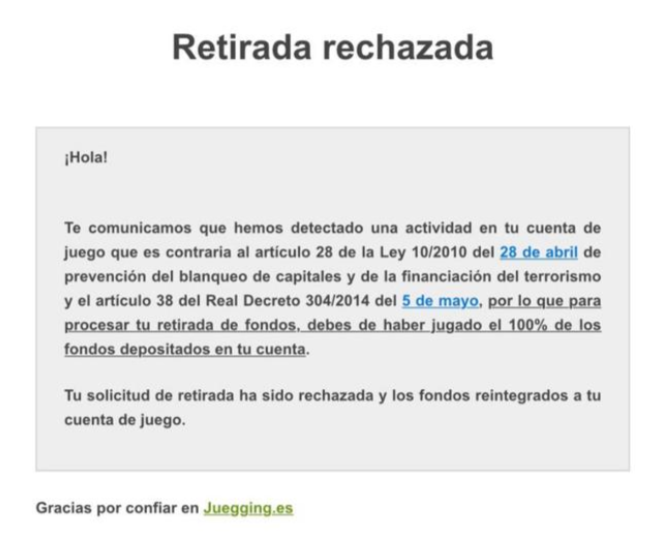 What do these articles say?
Article 28 of Law 10/2010 of April 28 on the prevention of money laundering and the financing of terrorism . We are not going to copy and paste the text of the article because it is long. But in summary, it refers to the obligation to submit to an external examination by an expert, in its money laundering prevention mechanisms. That Juegging is required to be audited, go. This obligation is expressed in article 26 et seq. of the same law, and specifically, bookmakers are obliged to monitor this issue through articles 10.3.h) and 10.5.a) of Law 13/2011, of May 27, on Gambling Regulation .
Article 38 of Royal Decree 304/2014 of May 5 . This RD expands the previous law, on the prevention of money laundering, with some things that it should not have seen fit to add to it. In any case, article 38, which we are not going to copy either, also describes how an audit of the money laundering control mechanisms should be carried out.
What does this mean?
The truth is that we do not know what Juegging's legal team had taken when writing this email, nor why they refer to two articles that are aimed at describing the obligations of bookmakers with the Administration. Simply, it is impossible for a client like you to breach them . Absurd.
What is certain is that sports betting houses such as Juegging are obliged to establish mechanisms to control suspected money laundering activities. We give you an example. A person could have received money from any illegal activity, such as drug dealing, or some branches of politics. This person could put this illicit money in a means of payment that offers little transparency, deposit it in a bookmaker, and later, without having made any bet, withdraw it to his bank account as " Winnings on sports bets ". To an investigator, this person might appear to be a very lucky gambler rather than a criminal.

This, according to the bookmakers, is solved once the client starts betting. If Juegging has refused your withdrawal, make two or three bets and you shouldn't have a problem. At BetHunter , however, we question the effectiveness of this mechanism. If you are a bookmaker, and your client has deposited money from a transparent means of payment, such as his bank account… Why not let him withdraw the money? How are you going to launder money by moving it between your bank and your Juegging account? Doesn't the bank also have the obligation to control possible money laundering activities?
If someone is really interested in laundering their money, aren't they going to bother with a couple of combos? If bookmakers really want to avoid receiving money that they don't know where it comes from, why do they work with opaque payment methods? But you know how this works: to collect there are never problems, but when it's time to pay…
By the way, we are not going to tell you what means of payment those are, rascal, I see you coming.
What can I do if Juegging has rejected my withdrawal?
The easy answer is gambling. If you have deposited your money in a bookmaker, that is supposed to be what you have come for. However, if you're reading this, it's probably precisely because they won't let you bet. We have seen cases of people who have opened an account in a betting house, and have deposited their money, only to realize that they had been limited from entering.
This case is like that of the whiting that bites its tail. I can't withdraw if I can't bet, but they won't let me bet. What do I do?
Well, first of all, the limitations are by sections, so if you need to, you can always play a little in the casino. Most of the bookmakers also offer roulette and slot machines as part of their services. However, these games are a sure loss and no one should be forced to jump through hoops.
The easiest solution is to call your bookmaker, explain the situation to them, and ask them to withdraw your money again. Phone support agents tend to work better than chat or email agents.
If they still refuse to allow your removal (which is unlikely), you can always file a complaint. After all, the bookmaker is taking advantage of an obligation entrusted to it by the State to block the balance of its clients.