Within the vast zoo that makes up the world of professional sports betting there is an animal that has been at the top of the food chain for years, and it is none other than BetBurger . The company of Russian-Ukrainian origin (although based in Malta, of course) has been with us almost since the first online gaming services appeared, and has managed to establish itself as the best service (by far) for players professionals.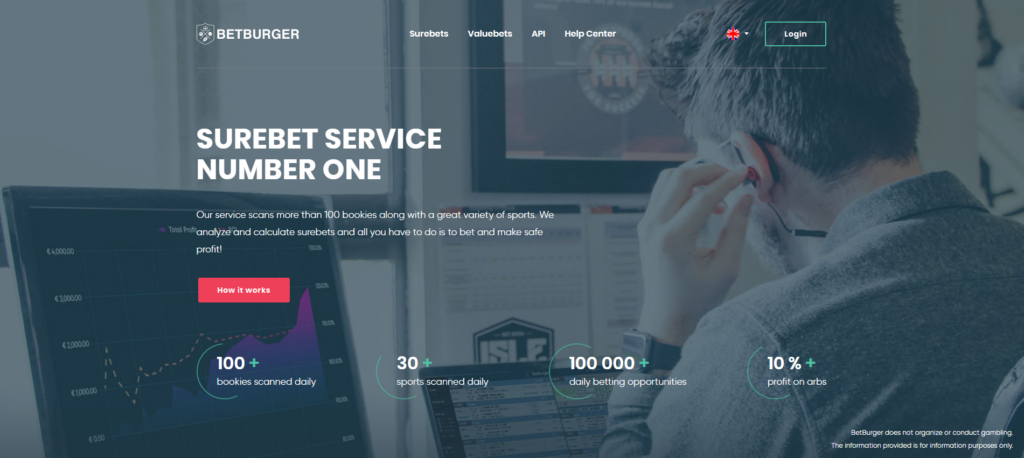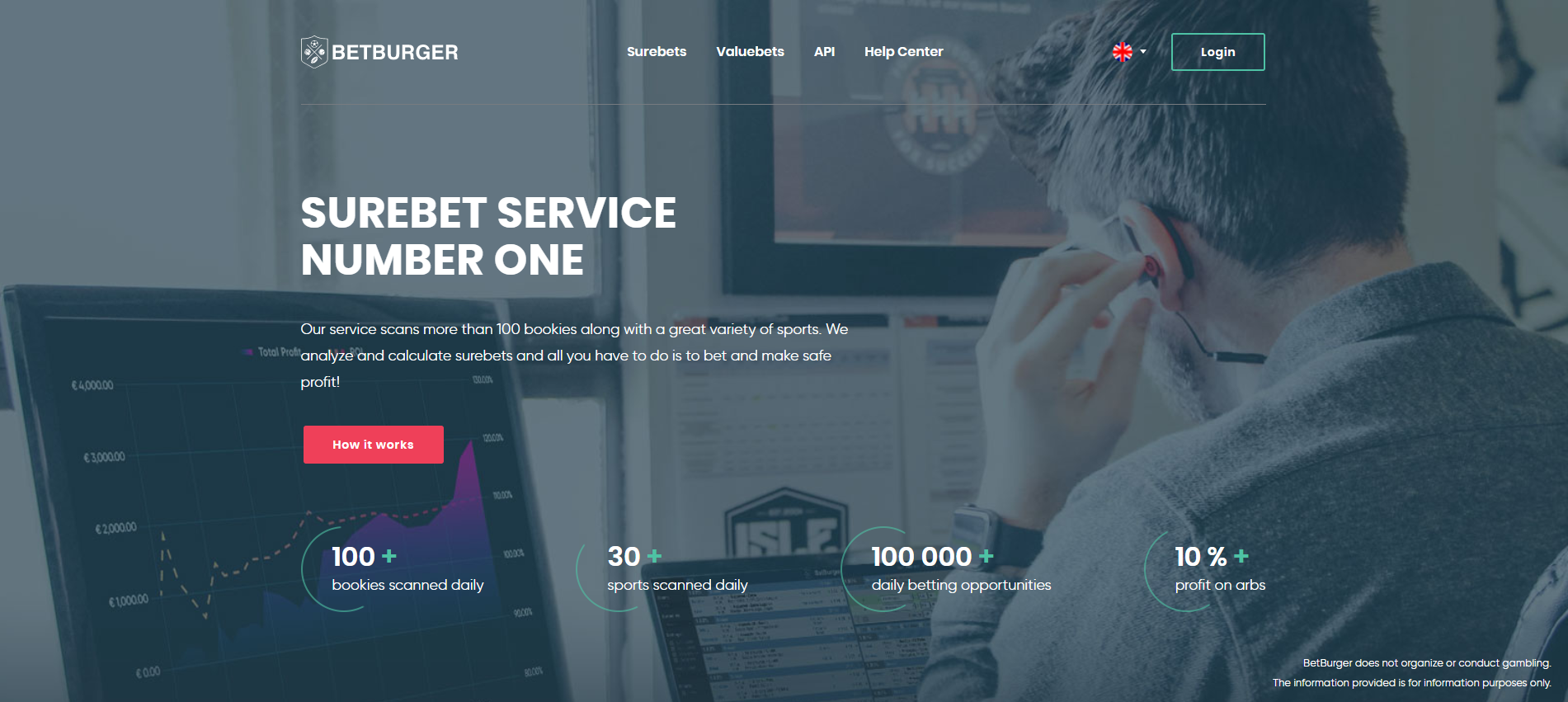 Its powerful software collects live data on the odds of more than 100 bookmakers around the world, compares them, and shows you in an easy-to-understand format those bets where you have an advantage.
What is BetBurger for?
Becoming a sports betting professional is not difficult, but it does require some basic principles to be clear. The most important is that it is necessary to bet heavily only on those bets where you have an advantage. What do we mean by this? Well, then you read this entry , where we explain it in detail.
BetBurger is a fundamental service to identify these bets where you have an advantage over the bookies. By comparing the odds offered by the different bookies for the same bet, it is able to identify those that are paying you more for the same.
For example: imagine that the odds for Real Madrid to win is 1.20 at Bet365, 1.23 at Bwin, 1.26 at WilliamHill, and 1.52 at Codere. This means that if you bet 100 euros, and Madrid wins, you would win 20 if you had done it at Bet365, and 52 if you did it at Codere. For the same result!
What follows from this is that not all bookies offer the same odds for a result, which means that there are some that offer more money than others. And it is these high quotas that must be attacked.
But of course, you have to keep in mind that these bookies have grids with dozens of games, and hundreds of open bets every second. It is impossible for a human to compare the different odds fast enough to be interesting to pursue.
That's where BetBurger comes in. They do all the hard work of scanning the different bets, so that you only have to assess if you are interested in making them, and of course execute them.
How to register
BetBurger has a free demo version, which you can access through this link . This demo version is unlimited in time (don't leave us your card and we'll give you 7 days free), and it will allow you to access all the features offered by the platform. It's a great way to get familiar with the interface (and follow this guide) without paying anything.
Of course, the bets it offers will be capped at 1% profitability, and will have a 60-second delay. We will see later why this is a problem.


Our advice is that you register, and go following this guide and fiddling with the settings before paying anything.
Learn how to set up BetBurger
As we understand that you are Spanish, and you are going to use Spanish bookmakers, we are going to teach you how to configure BetBurger so that our local bookmakers appear.
Click on My account, in the top bar of the web


2. Select Bookmakers in the side menu

3. Select Prematch or Live mode, depending on which betting mode you prefer to place. This depends on the tastes of each one, but first we recommend you start with Prematch, and when you have more experience, move on to Live mode.

4. In the country grid, select All countries, and uncheck all the boxes on the left. There is a box at the end that allows you to uncheck all of them, don't even think about going one by one.

5. Go back to countries, and select Spain. It should show you the following results: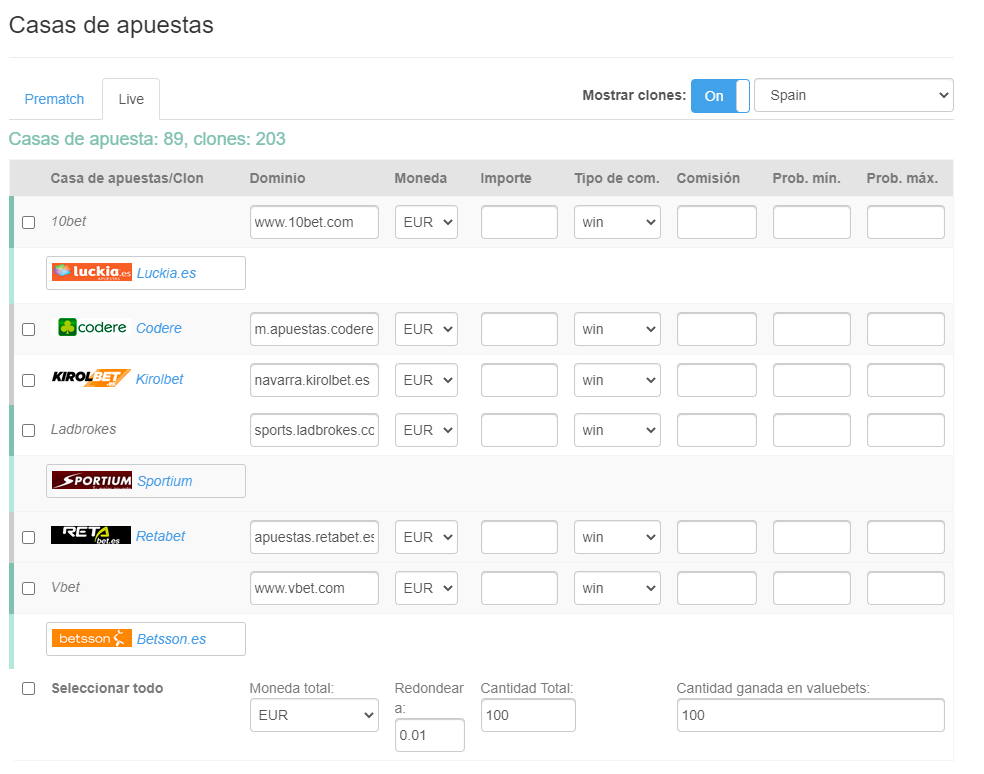 6. Configure it to look like the following image. In this way, the Spanish bookmakers will appear, instead of their international clones. If you want to know what a clone is, you can also read here .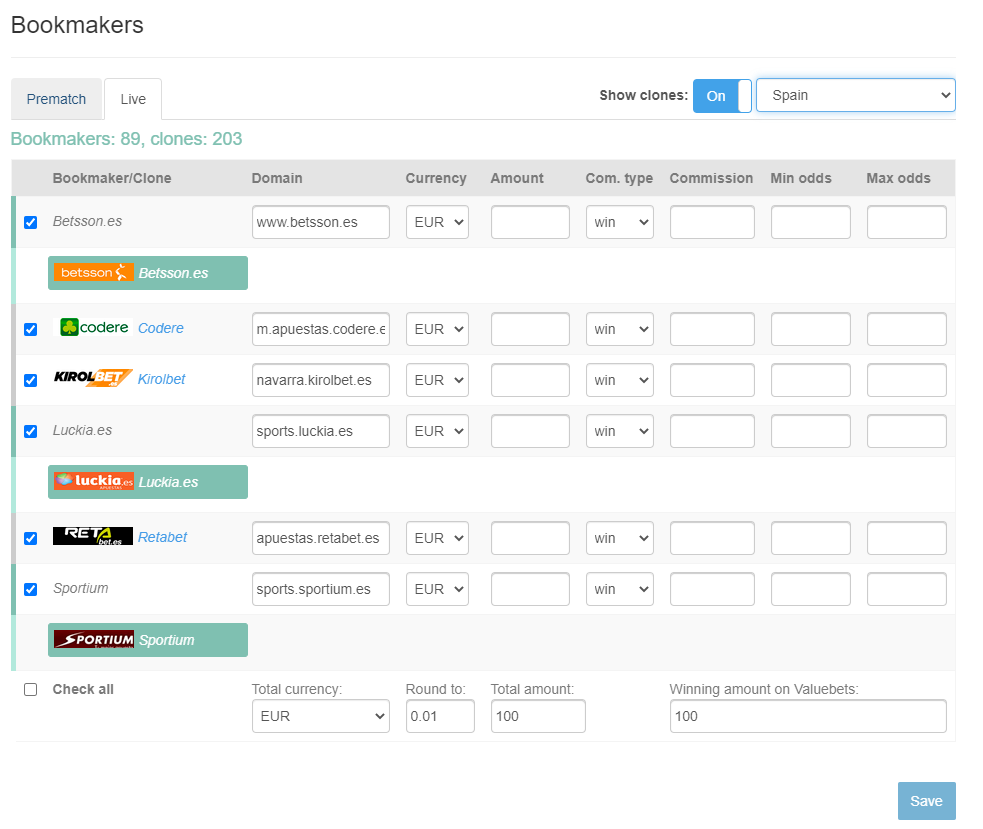 The fields that we have left blank are to put more restrictive settings, in terms of volume and quotas, and for now we will leave them as they are. The commission column is useful in cases where a clone applies an extra commission on the odds of its odds provider, but it is not something that we are going to worry about now, because it does not occur in Spain.
7. Skip Spain and go back to All Countries in the selector. There are some bookies that BetBurger does not expressly assign to Spain, but that also interest us. Find and select the following list:
888sport
bet365
betway
bwin
Interwetten
LeoVegas
marathon
pokerstarts
WilliamHill
Mark them also in EUR, and make sure that your domain is .es.
8. Click Save at the bottom.
9. Skip to the Surebets part (or Valuebets, if you decide to go for that package, but we recommend starting with Surebets). You can do it from the top menu


10. In the side menu on the left, mark everything as in the example, and click on the pencil icon in Filters:

11. Set it all up like in the image below: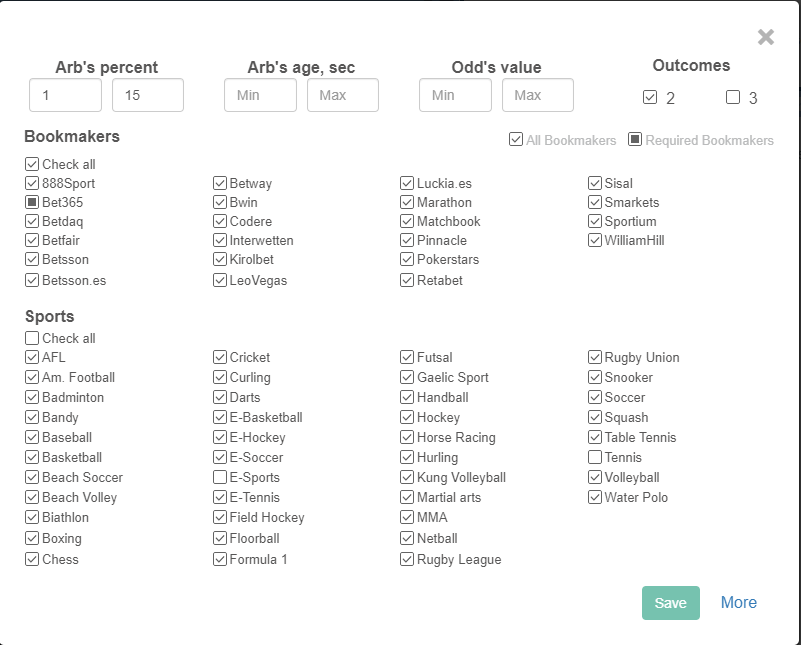 Regarding this, some comments:
Arb's percent: we have marked it between 1 and 15 to eliminate surebets with returns of less than 1% (it is not interesting to go after them, and they are very annoying), and greater than 15% (they are probably blatant mistakes by bookmakers, and you risk that they cancel the bet, so they are not interested either)
Outcomes : we have marked 2, to reflect that we want binary bets (eg O/U goals), instead of three-way bets (eg 1X2). They are much easier to do, especially at first, as you reduce the complexity.
Bookmakers : we have marked all the bookies that operate in Spain, although this depends on the availability of bookies that you have at any given time. Bet365 is marked in a stronger color, because we want to compare all these bookies against it. Being the most solvent bookmaker, we consider it to be the best possible reference.
Sports : we have unchecked tennis and E-Sports, since they are sports that evolve so fast that it is very difficult to catch bets on them. This is a configuration that we apply to Live. If your goal is to make Prematch bets, you should mark all sports.
12. Hit save, and you're ready to start betting.
How to bet using BetBurger
This is what the BetBurger interface looks like on a normal day. Let's analyze it: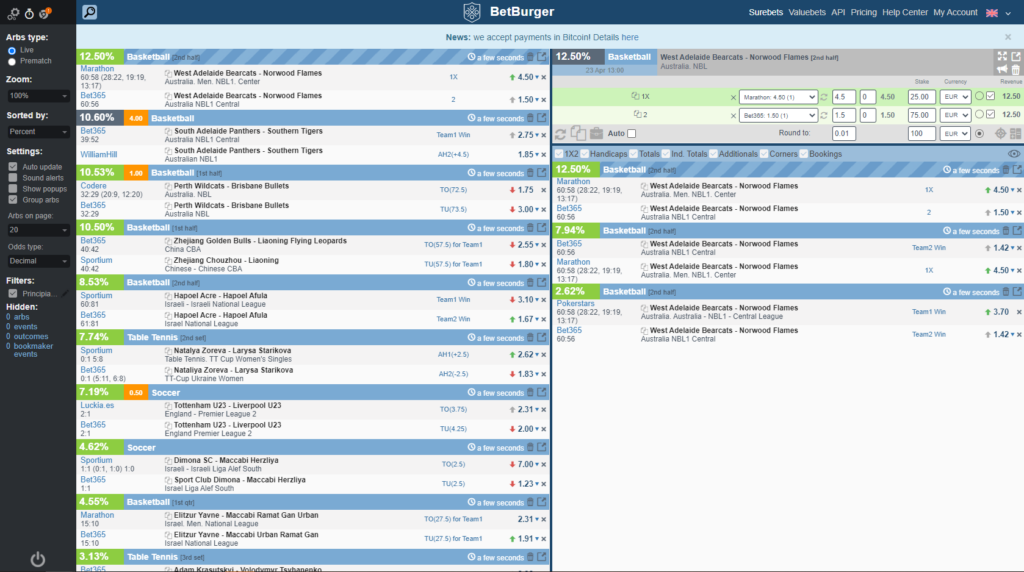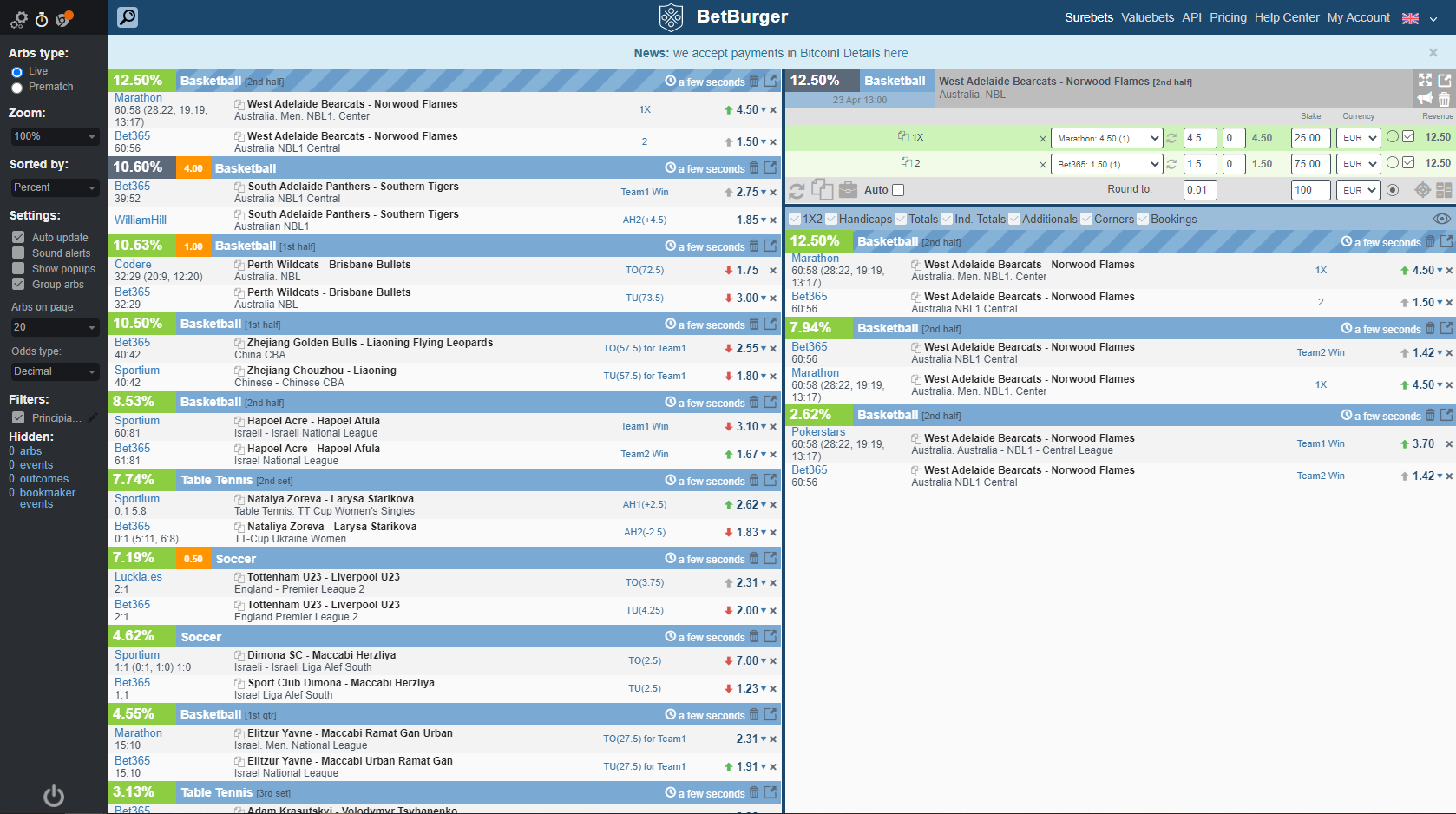 The left half : shows you a list of the best surebets (or valuebets) that are currently in force. If you don't know what these words mean, hit this link . We order them by percentage of profitability, but there are other variants, such as age, or if they are middles.
Each of these sure lines marks the following information:
The bookies where the surebet is taking place. There may be more bookmakers that are giving the same sure. In our example, both Marathon and Pokerstarts are surebetting Bet365. BetBurger will show you the most profitable result.
The result of the match at that moment, under the name of each bookie.
The match (and league) in which this surebet occurs. To the left of the match name there is a copy button, very useful for using a search engine to locate the match.
The market in which the surebet is produced. In our example, it is a 1X2 in the second part (it is important to pay attention to the second part, since betting on the winner of the second part is not the same as betting on a quarter or a match).
The fees. These are the best odds for that bet among the bookies that we have marked in our filters, and they allow you to make a surebet of 12.50% profitability. In other words, if you bet 100 euros between both bets, you would win 12.50%.
The right half: it is divided into two parts, which appear once you select a bet in the left half:
The calculator : which allows you to calculate the stake and the return that you can obtain in a surebet. This is fine for a beginner, but a professional should be able to do these calculations in their head.
Bets on the event: all the possible combinations of surebets for the same event are marked for you. This section is useful, especially if you are going to valuebet. We explain it below.
Ok, now we know the most important parts of the BetBurger interface… How do we get to the action?
Open your accounts in your bookmakers in other windows. For example, Bet365 and Marathon. Log in, deposit money, and start betting in prematch or live, depending on the mode you have chosen. You should see something similar to this: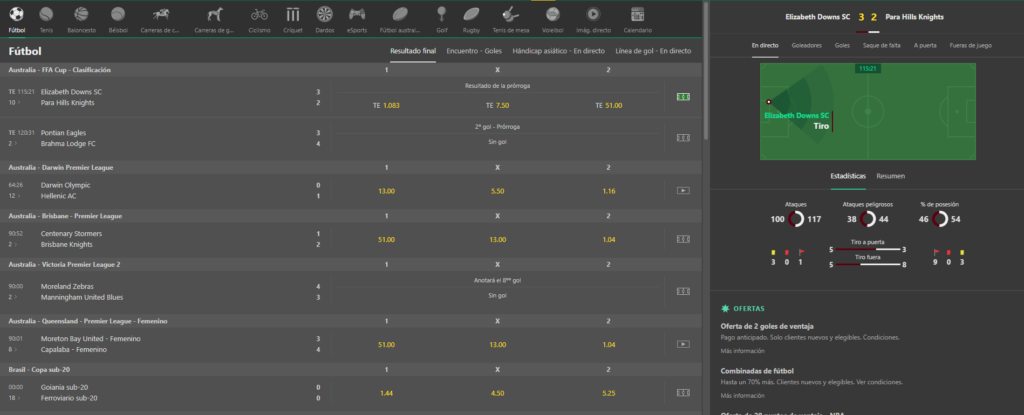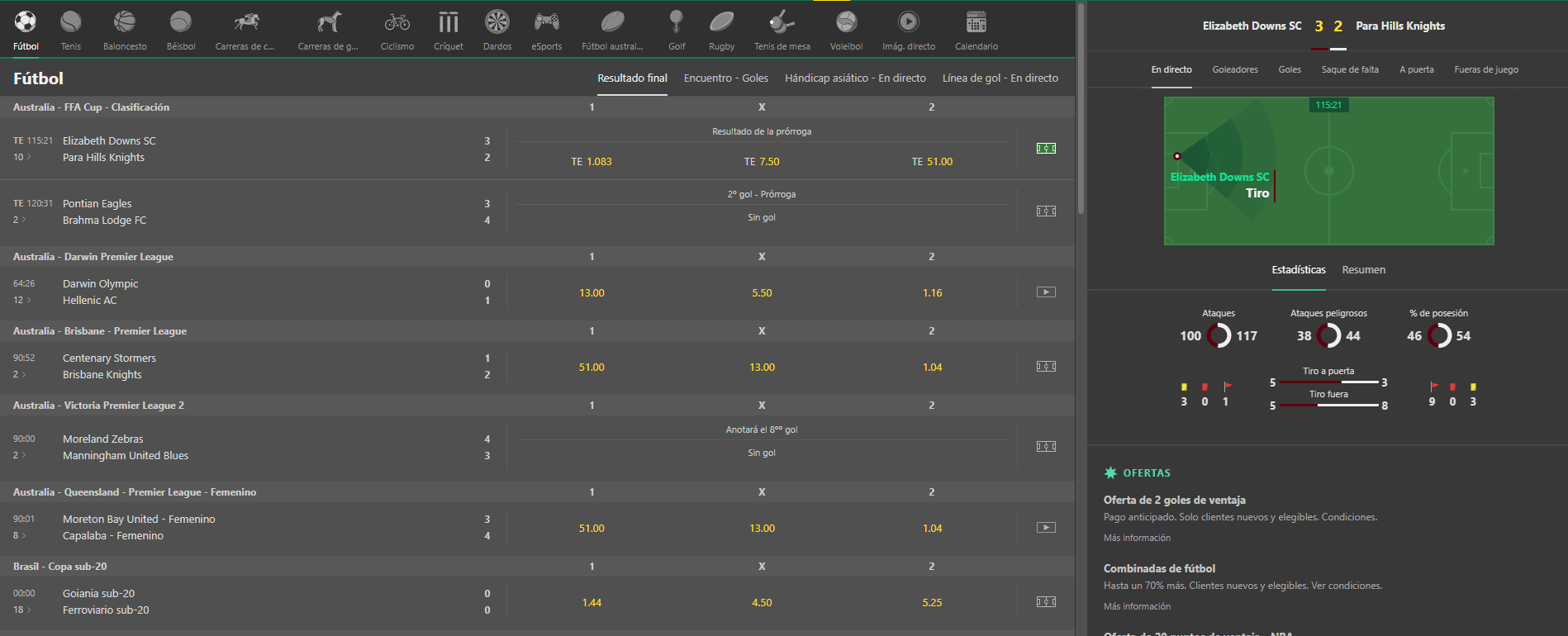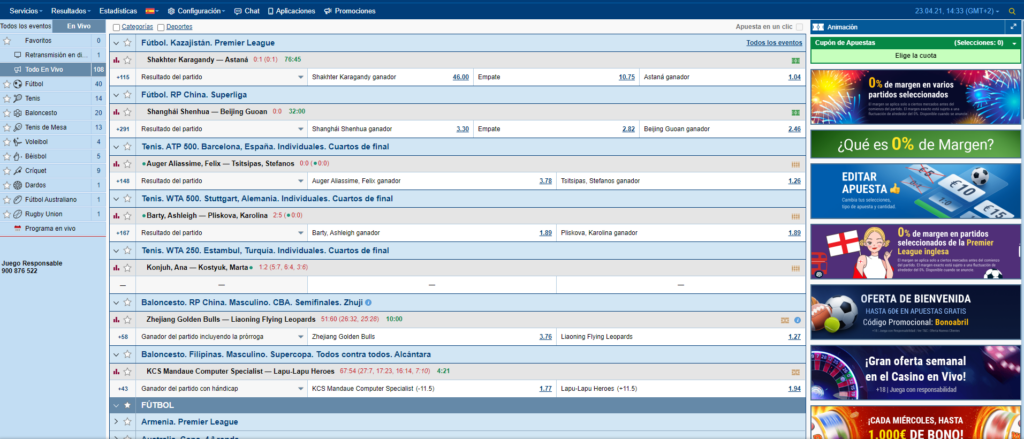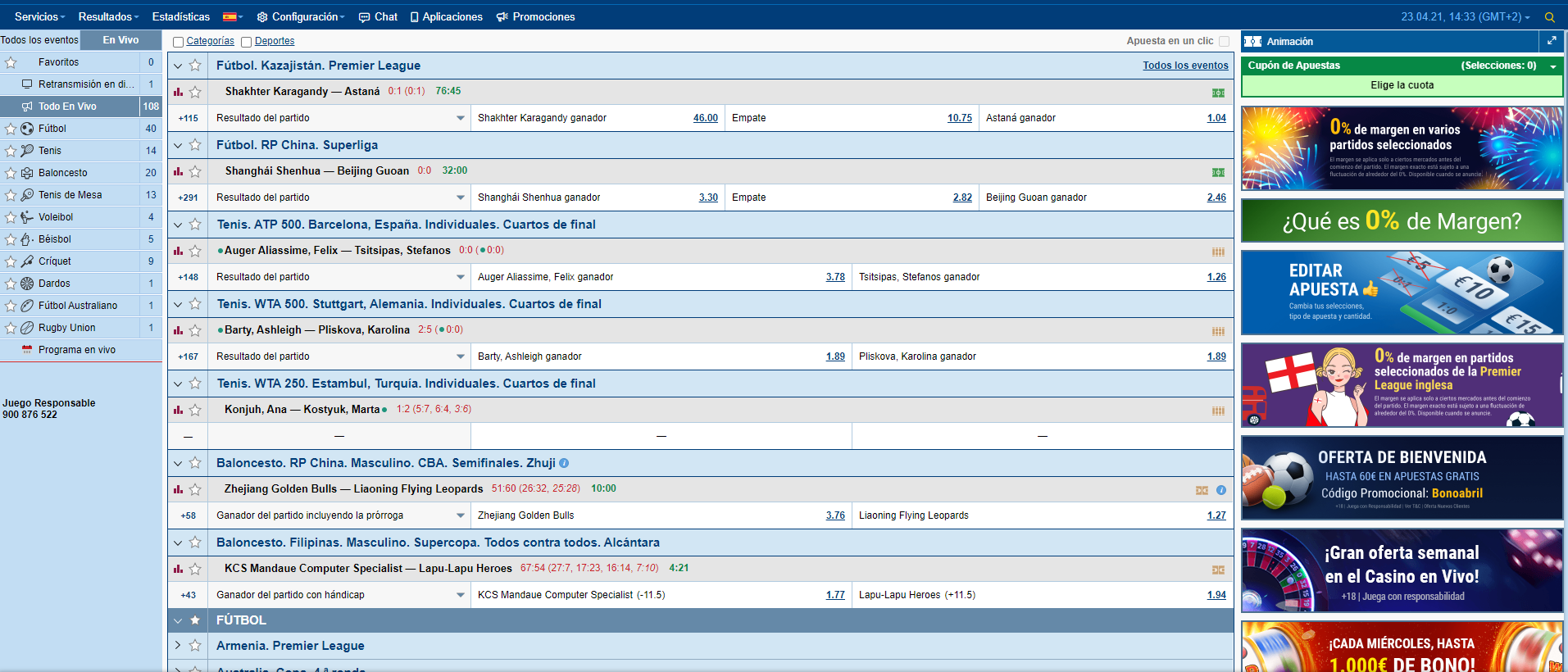 Go back to BetBurger, and wait for a surebet to appear between these two bookies. As soon as it appears, select it, and go running to locate it in the grids of the two bookmakers. As you will see this is much easier in Prematch than in Live. However, in Prematch there will be much fewer bets, and the profitability will probably be lower.
In Live, it will take a while for you to be able to locate the bets and place your bets consistently. Many people never get it right, or give up before they have the agility to pull it off.
Is there an alternative to placing bets by hand?
One solution for you, if you feel overwhelmed by the speed at which sports betting moves, is to try the BetOven software . This bot improves BetBurger's technology, since it not only finds the bets, but also places them for you, eliminating the risk of human error, and allowing you to spend your time on other things, such as enjoying your money.
Click here to request a test.