Have you ever wondered how profitable it can be to use BetOven for your betting?
Today we bring you a hard-hitting answer through real results from our partners who have found out how to make real money with Bethunter.
BetOven, our flagship software, has become an indispensable tool for those seeking to maximize their earnings in the sports betting world.
Trasparenza e Motivazione su Bethunter
One of the transparent and motivating facets of BetOven is the ability to view the financial performance of our partners in real-time.
On the ranking available on BetOven's official Partners web page, you can delve into the points acquired by each of them, a clear indicator of the success they are achieving 🏅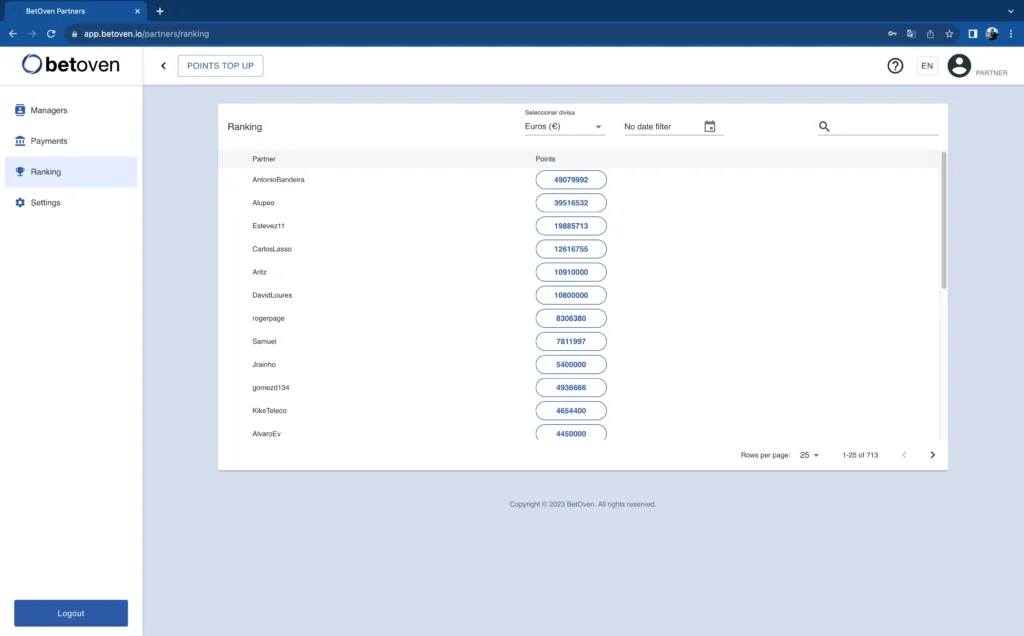 As you can see, some of the top BetOven partners have managed to generate over €100,000, with some even nearing the HALF A MILLION EURO mark! Isn't that mind-boggling? 😱😱
What began as a means of earning extra income 💸 for some, has transformed into a highly profitable business 💼, and needless to say, their primary source of income.
But as always, we advise starting slow. Initially, aim to create an additional source of income, and before you know it, you'll be enhancing your fixed salary as an employee.
Curious about the points purchased by all BetOven partners? Well, you know the drill! Use your partner credentials, navigate to the menu on your left, and click on the Ranking section.
What are you waiting for?👆