A common quest among bettors is to find the safest bets that can ensure, as much as possible, a positive return on investment. This is where sports arbitrage and surebets come into play.
But, how can we do this more effectively and automatically? The answer is BetOven, a tool designed to help you place safe bets automatically.
What are the Safest Bets?
The safest bets or surebets refer to bets placed on all possible outcomes of an event, ensuring a profit regardless of the outcome. This strategy is achieved through sports arbitrage, where differences in odds offered by different betting houses are exploited to guarantee a profit.

Advantages of Safest Bets ✅
Safe bets are a strategy sought by many bettors due to the multiple advantages they offer. Here we explore some of the most notable:
Guaranteed Profitability: One of the biggest attractions of safe bets is the guarantee of making profits. By betting on all possible outcomes of an event, a positive return is ensured, regardless of the final result. They are mathematically 100% SAFE.

Reduced Risk: The risk of losing money is significantly minimized with surebets. Unlike conventional bets, where the risk is inherent, safe bets offer a layer of protection against losses.

Long-term Strategy: Surebets can be part of a long-term betting strategy. Although the earnings from each bet may be small, the cumulative profitability over time can be significant.
Sports Arbitrage: The Path to Safest Bets
Sports arbitrage is a strategy that allows bettors to take advantage of differences in odds to ensure a profit. However, it requires a quick response and accuracy as these types of bets are made during the course of sports events.
How to solve this problem? Easy. With artificial intelligence and bet automation, I'll tell you below.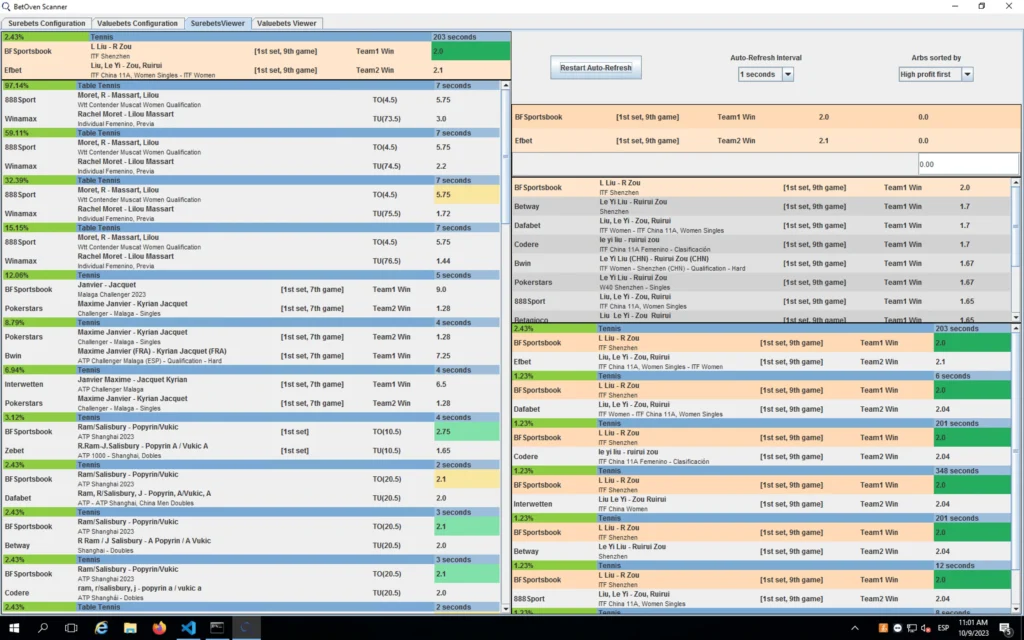 * Image of BetOven Scanner
Bet Automation with BetOven
BetOven emerges as an innovative solution for those looking to place safe bets efficiently. With its automated system, BetOven allows you to execute surebets and valuebets without having to spend hours in front of the screen.
Total Automation: Place safe bets 100% automatically.
Free Trial: Even without Asian bookies available yet, you can try BetOven for free and verify its effectiveness.
Continuous Updates and Improvements: Updates are practically weekly, correcting any changes in betting houses and adding more in different countries where it operates.
Request your free trial of BetOven and perform automated safe bets
Would you like to explore the universe of safe bets without any risk? BetOven makes it easy for you! We offer a free trial that opens the doors to a world where safe bets and profits are a tangible reality.
During this trial, you will have full access to BetOven's stellar features, allowing you to dive into the exciting world of sports arbitrage and surebets. It's the perfect opportunity to check, at no cost, how this tool can be a total game changer in your betting strategy.