To talk about online gambling is to enter a world full of opportunities and strategies. However, to maximise profits and minimise risks, it is important to use effective tools. Today, we will focus on one in particular: the valuebets scanner.
But what if I told you that there was an even safer and more automated way to gamble online? Stay tuned to find out.
What is a Valuebets Scanner? 🕵️
In the world of online betting, valuebets are bets where the actual probability of an event occurring is greater than the odds the bookmaker assigns to that event. So, if played correctly, it can be a profitable strategy in the long run. This is where the valuebets scanner comes in.
A valuebets scanner is a tool that automatically searches for valuebets at different bookmakers. These scanners track bookmakers' odds and compare them with the actual odds, in order to find valuebet opportunities.
Another way of explaining what a valuebets scanner is:
A tool that calculates average odds at bookmakers for specific events and looks for maximum deviations (overweight) at other bookmakers.
For example, if most bookmakers offer odds of 2.09 for Spain to win a hockey match against Germany, but one bookmaker offers odds of 2.80, that would be considered a value bet.
Benefits of a Valuebets Scanner 👍
Using a valuebets scanner has several advantages:
It saves time

. Instead of searching for valuebets manually, the tool does it automatically.

Increases the chances of finding valuebets

, as it tracks multiple bookmakers simultaneously.

It reduces human error.

And we are not only talking about numerical or calculation errors, but also about errors stemming from the feelings that influence us in making decisions. Feelings that we must separate when betting, remember, always keep a cool head.
Who should use a Valuebet Scanner 🧐
These tools can be useful for both experienced and novice bettors. However, it is important to remember that Valuebet Scanners identify and offer odds with the maximum deviation from the average odds of the major bookmakers.
The mathematical expectation of these strategies will make us money in the long term, however we must understand that these strategies have a high volatility and therefore can offer us losses in the short to medium term… moments in which we will have to stay cool and continue if we do not want to get out in losses.
Valuebets Scanner Comparison
There are several valuebet scanners on the market, each with its own features and advantages. Some offer a large number of markets and sports, others stand out for their user-friendly interface, while some offer advanced features such as the option to customise your searches.
It is important to remember that not all scanners will be suitable for everyone. Some may be better for beginners, while others may be more suitable for experienced gamblers. Choosing the right scanner will depend on your needs and level of experience.
In this article, we compare three of these softwares: BetBurger, OddStorm and BetOven.
BetBurger offers a tool called ValueBets that performs the entire process of searching for inflated odds. It has a wide selection of bookmakers, sports and markets to search for exaggerated odds. The tool provides direct links to an event or betting slip and allows you to sort exaggerated odds by various criteria. It also includes a range of advanced settings and a filter of the best bookmakers.
An additional feature is that it allows you to keep track of your bets.
BetBurger offers three subscription plans: Valuebets Prematch (€159.99/30 days) and Valuebets Live (€279.99/30 days) and Prematch+Live (€259.99/30 days).
OddStorm is an arbitrage betting software that is described as fast and accurate. It focuses specifically on football and scans over 71 bookmakers for pre-match and live odds. Its scan update speed is remarkably fast. Although OddStorm covers only football and has a high monthly fee, it is considered a premium service capable of generating several thousand euros each month in the right hands.
It offers several subscription options, with the cheapest VIP plan costing €7 per day for pre-match and €9 per day for live matches. VIP Plus plans (with redirection tool) cost €250 / month for pre-match and €290 / month for live matches.
BetOven is an automated betting software that not only analyses the markets and provides us with 100% free value bets. But its paid version does something totally revolutionary: it bets 100% automatically according to the parameters you have set, as we show you below in this article.
But BetOven not only offers us this automated betting software, but also gives us the surebets and valuebets scanner.
A system with a sub-second update speed, analysing bookmakers in real time and showing us free value bets, without any yield or odds limitations. You can download it for free through this link and just register and we will send you the information you need to use it!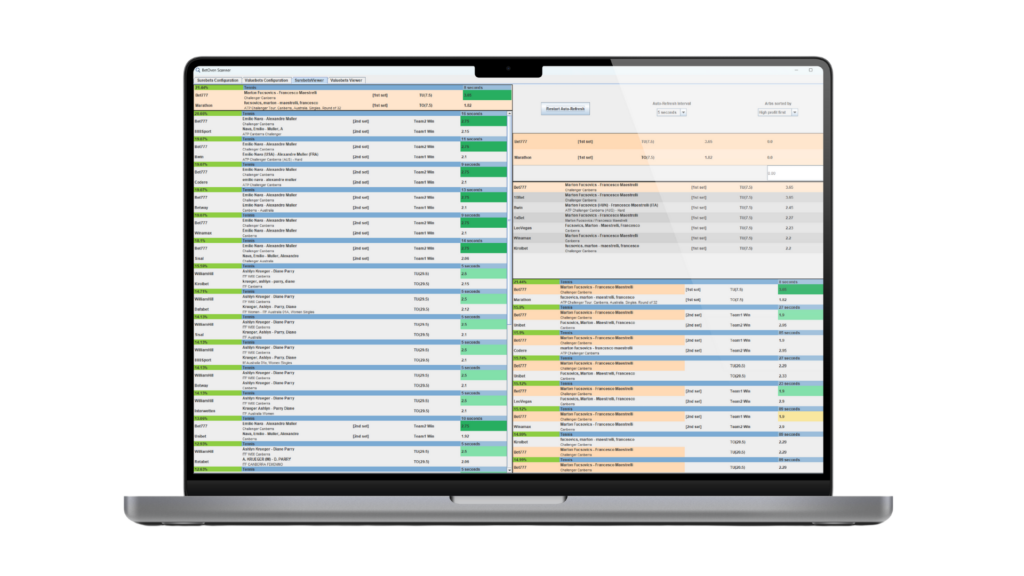 Automatic Valuebets: A Step Further 🚀
Now that you know more about the valuebets scanner, we would like to introduce you to a safer and more automated way of betting: BetOven. This 100% automatic betting software not only finds the best bets for you, but also places them. In other words, it turns gambling into an investment.
BetOven constantly monitors odds from different bookmakers, analyses the data and places bets based on advanced algorithms. In this way, you ensure that you place the safest and most profitable bets possible. With BetOven, you can bet with confidence, knowing that you are maximising your chances of winning.
A free trial is also available by clicking on the following link: