The word singlebet, as you can imagine, comes from English, and can be translated as single bet.
It is a concept that is rarely used in the betting world, but it makes a lot of sense when it comes to other strategies such as sports arbitrage.
When does a Singlebet occur?
If you are doing sports arbitrage (surebets) you already know that BetOven (our surebetting bot) places at least two bets when placing a surebet.
In a normal working situation, both bookmakers are set up as primaries and BetOven places the surebet which has more value first and is therefore more likely to change its odds or close its market.
Once this is done and the bet is closed, the other bet, the most stable, and therefore the one with the least chance of odds change or market closure, follows.
If when we are making a surebet, the second place bet changes its odds or closes its market, we will not be able to complete the surebet and we will be left with a single bet, or singlebet.
In addition, we can also have a singlebet if we have limitations at the second bookmaker where the surebet is being made.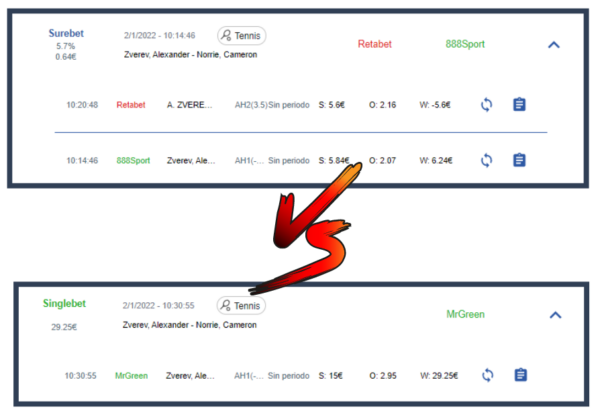 In other words, to simplify a little: a singlebet is a surebet that could not be closed due to changes in the bookmaker. At least if we focus on this concept when we are making surebets.
Can we avoid doing Singlebets?
It all depends on the reason why we had that singlebet.
If the singlebet is caused by a bookmaker's limitation, there is nothing we can do about it. If this singlebet is given by a market close, we will not be able to do anything either, as we will have no way of betting.
When a quota change occurs, there are two things we can do:
1. Automatic Singlebet Closing
If we do not modify the singlebet closing parameter BetOven will keep trying to close this surebet throughout the event, waiting for a favourable odds change to close it as a Surebet.
That is why it is very interesting to leave a singlebet unclosed when it has been produced by a change of odds.
2. Closing Singlebet as negative Surebet
If we have had a change of odds we can do so by closing this singlebet as a negative surebet. Modifying the parameter: Try to close profit singlebets with values greater than -100 such as -10 or -5.
In general I do not recommend closing them, because singlebets have value as they are bets with odds above the usual, otherwise we would not be able to make a surebet, although they add volatility to the result.
However, closing them will result in a 100% guaranteed loss, even if it is of lesser value than if we lose the singlebet.
Our statistics tell us that it is preferable to leave them open, valuing a long-term partnership with BetOven.
But I leave the choice up to you to decide!
More information is available in the following article:
Videos on the subject of singlebets due to limitations:
If you don't know him, I recommend you watch the following video… I promise you won't be indifferent: