Have you ever wondered which is the best platform to succeed in the world of betting? In this article, we will compare BetOven and BetBurger, two of the most recognised tools on the market, and reveal which one offers the better experience and why.
Don't miss the end, where we tell you about a free trial! 🎁
What is sports arbitrage? 🤔
Sports arbitrage is a betting technique that allows you to make a profit regardless of the outcome of a sporting event. This is done by taking advantage of the differences in the odds offered by different bookmakers. Surebets and valuebets are two types of bets used in sports arbitrage. 📊
I show you an example of the same event and different odds:

Surebets are sure bets in which a profit is guaranteed regardless of the outcome of the event.


On the other hand, the valuebets are bets with higher odds than those that should be set, taking into account the odds of that outcome occurring. In other words, they are bets that pay better than the other available bets💰.
Comparativa BetOven 🆚 BetBurger
To evaluate which of the two tools is the best, we will analyse their features, functionalities and prices. 📝
Both platforms offer surebets and valuebets (sports arbitrage) services in general.
However, BetOven has two softwares: the free scanner, similar to BetBurger, and its much more powerful bot, which not only shows the opportunities but also places bets automatically, without the need for us to log in to our bookmakers.
BetBurger: 1 Scanner
BetOven: 1 Scaner FREE+ 1 bot
This functionality makes BetOven a more complete and advanced tool. 🔥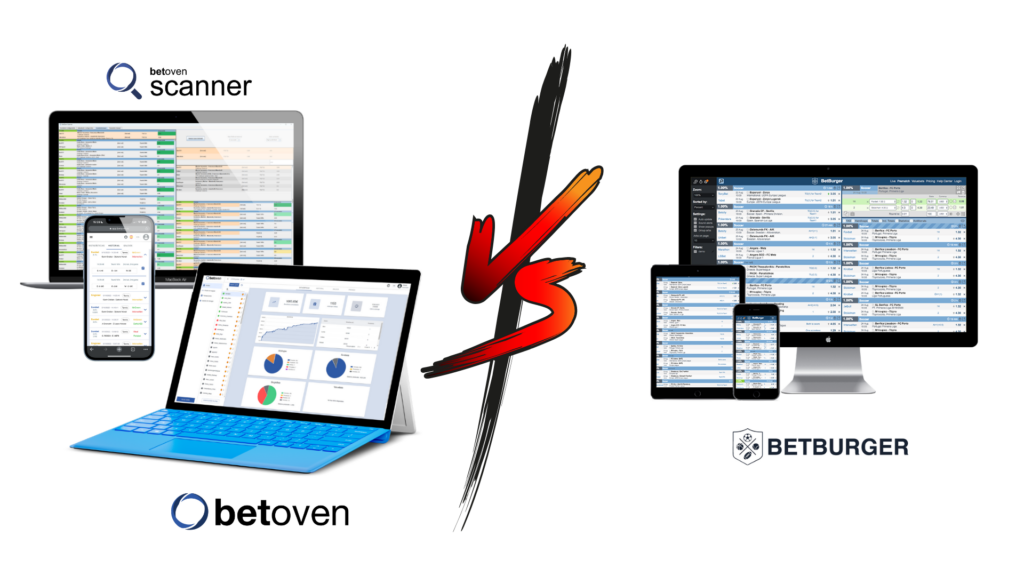 BetOven's offer and Betburger's offer are somewhat different:
On the one hand Betburger has tried to lead the industry in the field of betting scanners by including a large number of bookmakers in its software. A much bigger offer than BetOven, being present in many countries, if you are Spanish you shouldn't mind too much, as most of the Spanish bookies are also available in BetOven Scanner.
BetBurger also offers prematch betting which BetOven does not provide, partly due to the number of limitations it places on bettors.
Instead BetOven provides us with a 100% FREE scanner✅, and a payment robot that places the bets for us, taking automatic surebets and valuebets to another level, which allows you to optimise your time and increase your earnings. ⏱️
Both BetOven and BetBurger offer a wide range of sports and events to bet on. Both have an alert system that informs you about sports arbitrage opportunities in real time.
Analysing both surebets softwares we can see a big advantage of BetOven over Betburger, see the comparison:
BetOven Scanner = 100% Free ✅
BetOven = From £100 (in credits) – Free trial of £25✅
Betburger = From £279 (live) ❌
Betoven is unrivalled in this area, the direct competition with Betburger is FREE. And the bot starts from smaller prices than Betburger's, a tool that only scans quotas…
Why is BetOven the best choice? ✅
Here are the main reasons why BetOven is the best choice for sports arbitrage:
Advanced software: BetOven's bot places bets automatically, allowing you to optimise your time and increase your winnings. 🚀

Free trial: BetOven offers a free trial, which allows you to find out if you are really interested in BetOven.

Competitive pricing: BetOven's basic plans are cheaper than BetBurger's, allowing you to save money while enjoying quality service. Moreover, they are based on credits and not on monthly payments, you won't pay again until you use up the points you bought, and therefore earn what you had planned.

More features: BetOven offers a scanner similar to BetBurger 100% free and a more advanced bot, giving you a more complete experience.

100% free scanner: This alone should be enough, at least to test both software, the scanner and the bot.
Here is a video of how to install BetOven Scanner for free on your computer:
After analysing the features, functionalities and prices of BetOven and BetBurger, we can conclude that BetOven is the best option for sports arbitrage. Its advanced software, which includes a scanner and a bot that automatically places bets, allows you to optimise your time and increase your winnings. In addition, BetOven offers a free trial and more competitive prices than BetBurger, allowing you to test the platform without commitment and save money in the long run.
In short, if you are looking for a tool to make the most of sports arbitrage and succeed in the world of betting, BetOven is the ideal choice. Don't miss the opportunity to try their service for free and see for yourself the advantages they offer over BetBurger.
Remember that by using a tool like BetOven, you will not only be optimising your bets and increasing your winnings, but you will also be investing in your knowledge of surebets, valuebets and sports arbitrage in general. The world of betting can be complicated, but with BetOven's help, you'll become an expert in no time.
Good luck with your bets and let the winnings begin! 🍀
I'll leave you here the following link if you decide to try the BetOven bot: